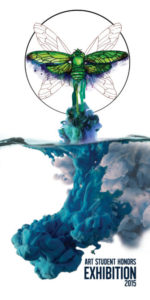 The 49th Annual Pensacola State College Art Student Honors Exhibition is featured April 13 – May 6 at the Anna Lamar Switzer Center for Visual Arts, Building 15, on the Pensacola campus.
Selected by PSC faculty, the student work represents the finest examples of ceramics, drawings, digital images, graphic design, jewelry, painting, photography, sculpture and video.
The exhibition is free and the public is welcome to visit the gallery from 8 a.m. to 9 p.m. Monday through Thursday and 8 a.m. to 3:30 p.m. Friday. Tours are available with prior arrangements. The public also is invited to the student awards ceremony at the Switzer Center, 6-8 p.m. Friday, April 24.