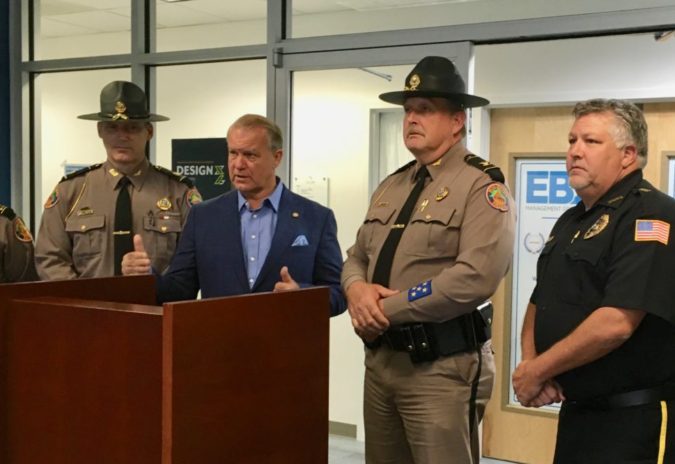 A collective of law enforcement agencies will be working together over the next two years to step up traffic enforcement efforts on the new Pensacola Bay bridge until its construction is competed.
"I think everybody knows, people speed on the bridge," said Gulf Breeze Police Chief Rick Hawthorne. "It's gonna be a long two years."
Florida state Sen. Doug Broxson hosted a meeting of the involved agencies in Pensacola Oct. 18. Participants of this bridge enforcement effort include the Florida Highway Patrol, the cities of Pensacola and Gulf Breeze, as well as both Escambia and Santa Rosa counties.
"What we're trying to do is change behavior, not put people in jail or give them a ticket," Sen. Broxson said during a press conference following the joint meeting.
The new bay bridge is currently half done, with the first span opening in September and temporarily accommodating traffic flowing in both directions with an emergency lane in between. The second span is scheduled to be completed in 2021, at which point each direction of traffic will enjoy its own three-lane span with respective emergency lanes.
Broxson said that the increased bridge patrols will be funded to the tune of $500,000 from the Florida Department of Transportation. Though he hopes to secure some additional funds to allow for full saturation.
"Hopefully, we can find the funding to do 24-7 for the next two years," the senator said.
It's already been an active season for law enforcement on the bay bridge. Just since Sept. 30, Gulf Breeze has made 400 traffic stops near the bridge's landing; and tickets given out in construction zones carry increased penalties. Authorities say they hope broadcasting the presence of patrols covering the bridge will deter drivers from speeding or otherwise driving dangerously, such as by using a hand-held cell phone in the bridge's construction zone.
"It's three miles and we just need your best driving for those three miles," Chief Hawthorne said.
The Gulf Breeze police chief said that increased coverage could start relatively quickly, and would include posting officers with radar guns on the bridge's pedestrian path, which is separated from the driving lanes.
"It's just a matter of getting the manpower out there," Hawthorne said. "It could happen anytime now."
Col. Gene Spaulding, director of FHP, said that the enforcement level will ebb and flow, with heavier enforcement during periods of increased safety concerns.
"We want to be fiscally responsible with the funding," he said.
Spaulding also said that the enforcement duties split between the agencies will be "very fluid."
"And fair," added Sen. Broxson.
While this added bridge enforcement will inevitably lead to more traffic tickets and increased revenue via financial penalties incurred by drivers, Col. Spaulding joined Broxson in stressing that the mission's main goal was not generating more traffic tickets.
"Education. Communication. Enforcement's always the last piece," he said.