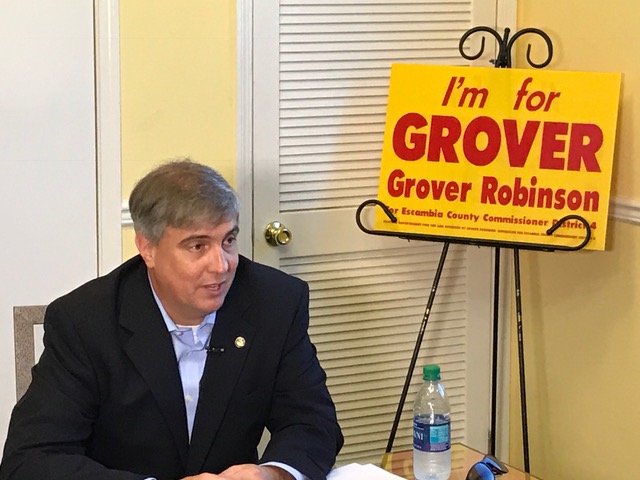 By Duwayne Escobedo
INWEEKLY
About a dozen local citizens greeted Escambia County Commissioner Grover Robinson IV at his town hall meeting at the Santa Rosa Island Authority office by singing "move over Grover" to him.
The dozen protesters believe that Robinson is trying to give away Pensacola Beach property that the federal government deeded to the county in 1947 to make decisions for the good of the public.
Near the end of the meeting, however, the standing-room only crowd that packed the SRIA board room applauded Robinson.
He made clear the language he provided in a House bill spearheaded by U.S. Congressman Matt Gaetz, R-Fort Walton Beach, offered solutions to taxation and to preservation.
He said the bill provides a more equitable payment method for Pensacola Beach leaseholders. It allows them to choose to pay lease fees or pay property taxes but not both like many do now. Escambia County set up the lease system when the federal government initially conveyed the property. The county began assessing taxes on improvements on beach property in 2004.
Additionally, Robinson pointed out the bill, if it becomes law, would permanently protect undeveloped public areas from development. That means both national lawmakers and the five-member Escambia County Commission — instead of just commissioners — would have to approve development of those lands.
Robinson, who once owned a Pensacola Beach condo, pointed out zero high-rise condominiums have gone up since he took office in 2006.
"Pensacola Beach means an awful lot to me," Robinson told the crowd. "Pensacola Beach is the single biggest asset we have."
He admonished Santa Rosa County Commissioners for failing to put restrictions on Navarre Beach Development and continuing to pursue a pass through the barrier island. Robinson said their action caused Sen. Bill Nelson to drop his support for the bill.
"I see a lot of 'save our beach' signs," Robinson said. "(Milton) is where all the noise needs to be made. We did it. Why can't they do it?"
While the issue of taxes dominated the two-hour discussion, Robinson also addressed complaints about dogs at the beach, toll booth improvements, elimination of traffic congestion and the start of ferry service between Pensacola and Pensacola Beach as early as March 2018.
In addition, he revealed that the county plans to build an access road from Fort Pickens Road to Casino Beach just west of the Sheriff's substation. Plus, it plans to extend a 10-foot pathway and a road to the Grand Marlin Restaurant.