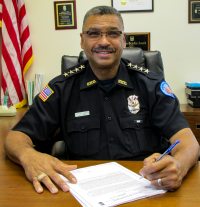 From PPD press release: Pensacola Police Chief David Alexander III has reviewed facts related to a video posted this afternoon on Facebook regarding a child custody incident that occurred today at a local church.
"The officer properly did her job in reviewing the court ordered paperwork and in asking several people to please have the child leave the church to be returned to the father. Unfortunately, the people did not comply with her requests, thereby necessitating her to enter the sanctuary," Alexander said. "We were there to obtain a peaceful resolution as opposed for it ending the way it did."
Alexander has determined the following:
Around 12:45 p.m. today, a man came to police headquarters at 711 N. Hayne St. regarding a child custody dispute. Officer Meghan Darling met with a complainant at the department in reference to a failure to return a child to him as the custodial father. The father had allowed the child to visit the maternal grandparents, but the grandparents were refusing to return the child. The father had court documentation ordering the return of the child to his custody. He also indicated he attempted on multiple occasions to retrieve the child from the grandparent's home with the assistance of the Escambia County Sheriff's Office; however, the grandparents would not open their door.
Officer Darling and the child's father located her at a local church a short time later. Officer Darling waited outside the sanctuary and spoke with a female who stated she would get them. The woman went back inside and sat near the child but no one came out. A male then exited and asked what Officer Darling needed. He also said he would get them, but no one came out. A third female came out to Officer Darling and agreed to get them but no one came out.
Officer Darling waited outside the sanctuary approximately 15 minutes before she entered and quietly tried to request the parties move out of the sanctuary to resolve the matter. Individuals seated with the child refused to comply with her request. At least one person within the congregation berated Officer Darling saying she was the cause of people being shot in the back. Alexander said that comment was recorded on the officer's body camera.
Officer Darling's supervisor, Sgt. Demetrius Stallworth, also responded to the church. The child's grandfather, who also is the pastor of the church, asked if the child could stay for communion and then be turned over to the father. The officers agreed, but that time lapsed and the child was not returned to the father until after the service ended.
Alexander said the child's grandfather was aware the court order for return of the child had been signed.