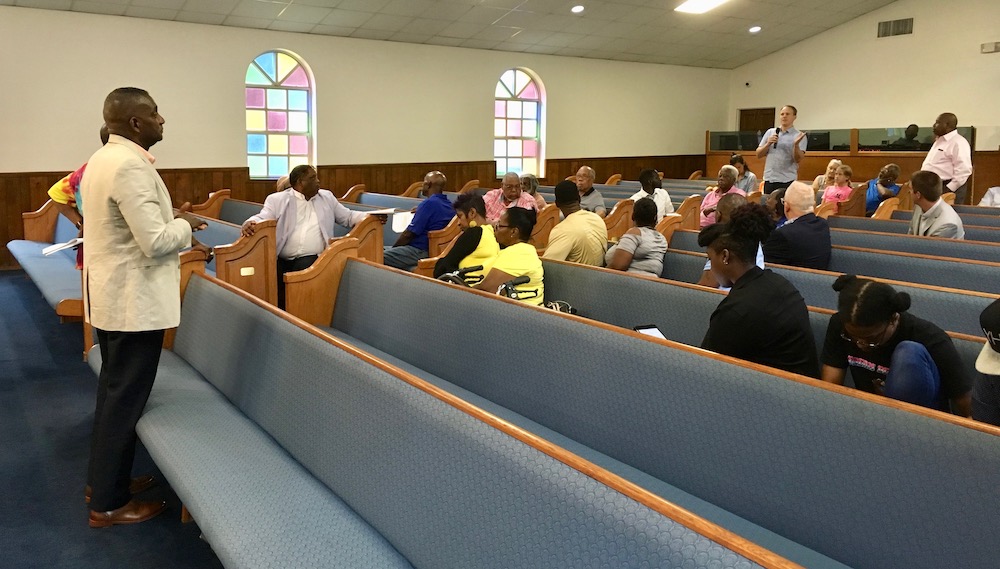 By Jeremy Morrison, Inweekly
BETHEL AME CHURCH— Ahead of the Pensacola City Council's appointment of an individual to the District 5 seat following Councilman Gerald Wingate's recent passing, a group of district residents gathered together Monday night to discuss the issue.
While efforts were made to steer the evening in a purely informative direction, by the end of the meeting individuals were announcing their intentions to pursue the vacated seat.
"We hope the process goes smooth," meeting organizer Ellison Bennet said afterwards. "There's going to be some discussion, there's a lot of passion and energy about serving."
The meeting began with the basics being laid out: city council will make an appointment to the seat during a special meeting Sept. 4, the appointee must have resided in the District for the past year and names of nominees must be submitted to city council by Friday.
"We wanted to make sure at this meeting tonight, that everyone understands the process," Bennett explained to those assembled inside the sanctuary of the Bethel AME Church.
There was also some discussion about the recent statements by Mayor Grover Robinson that he prefer any individual appointed to the seat make a pledge not to run for the seat in 2020, contending that would equate to council selecting an advantaged incumbent in the race.
"That's simply the mayor's opinion. There's nothing legal about that," explained Lawrence Powell, the city's Neighborhood Administrator. "His intention was to just offer an opinion for consideration."
Earlier in the day, Mayor Robinson had noted he could only advise council on this front, and has suggested that any appointee take a pledge not to run. But Council President Andy Terhaar has also said he agrees the appointee should bow out of running in 2020.
After covering the logistics of the District 5 replacement and urging people to forward their nominees to city council members, talk turned to who might best serve the district.
Throwing Out Names
The discussion began when Walter Wallace, president of the Woodland Heights Neighborhood Association, said that whoever was appointed needed to have a good understanding of district issues as well as the mechanics of municipal government, lest the district suffer from an inexperienced representative, and was then asked if he had a name to throw up for consideration.
"I've got a name, but — I'll send the city council members my name," Wallace said. "We're not talking about who we want to send, because everybody's got an opinion about who they want to win."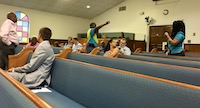 The discussion momentarily strayed, but soon returned to who specifically could fill the seat when a man suggested that Teniade Broughton would make a good appointment, saying that she would only intend to serve temporarily and not want to seek the seat in 2020.
"We don't want to bring up anybody," Wallace again deflected.
But Broughton, in the audience, disagreed.
"I actually would be interested," she said, wondering who other people thought should fill the seat.
"We could sit here all night and talk about who we want to nominate," Wallace said.
"Can we talk a little bit tonight?" Broughton said.
Bennett would soon step in and officially plow into a potential field of appointees.
"There are several people in the audience tonight that are interested in serving," he said, adding that he'd leave it up to those individuals whether or not they wanted to make any sort of statement.
In attendance were both individuals — Ron Helms and Rodney Jones — who have thus far filed to run for the District 5 seat in 2020. Neither candidate stood to make a statement regarding the immediate appointment.
Instead, Haley Morrissette, a local community activist and member of the Dream Defenders, an organization currently engaged in a discussion with Mayor Robinson regarding police-community relations, stood to tell the hall she intended to pursue the seat.
"Pensacola is my home, but District 5 especially," she would explain afterwards. "It's where I played as a child, I raise my kids here. It's just super close to my heart."
Tony McCray, long plugged into municipal and community discussions, also said he would like to serve.
"I've live in the district since 1964," he said.
Broughton, too, said she would be interested.
"I am interested because I would like to see a few things happen in this neighborhood," she said, explaining that she would focus on continuing Wingate's work.
Although he did not publicly state his desire for the seat in the immediate, Helms said after the meeting that he planned to submit his name to council for consideration — "I am planning to do that" — but did not intend to commit to not running in 2020.
"I could not take the pledge," Helms said.
Jones said he had initially considered going for the appointment, but was now thinking he wouldn't because he intends to pursue the seat in 2020 and couldn't commit to not run.
"That's why I don't want it," he said after the meeting, adding that he was focused on 2020. "I'm ready for this. I'm waiting on this."
Jones appeared to be the lone contender present who considered the mayor's request the appointee not pursue the seat longterm as a showstopper. Other prospects were either alright with filling the seat temporarily, like Broughton, or taking a pass on the so-called "pledge" the mayor referred to earlier Monday, like Helms.
Morrissette said she understood the mayor' position, but didn't feel the appointee should be asked to take a pledge not to run. She explained her position this way: "If they do a good job, maybe the people are going to want to see them stay in that seat."