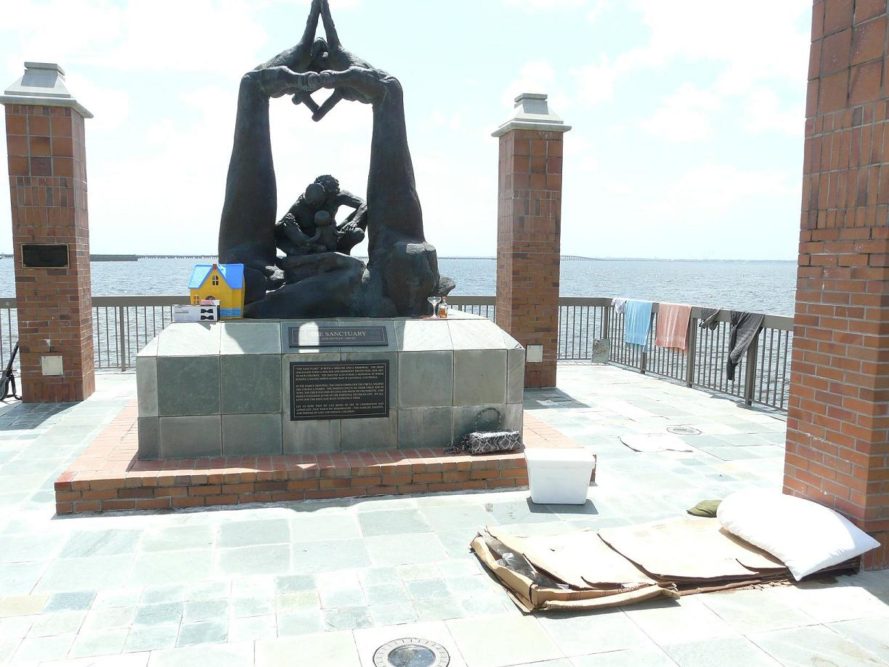 By Duwayne Escobedo
INWEEKLY
Trash covers the ground nearly everywhere below National Memorial to Missing Children at Hawkshaw Memorial Park.
More tiles have been torn up from the observation deck and bronze statue, "Sanctuary," and smashed on the rocks below that line Pensacola Bay.
The smell of urine slaps visitors in the face at the entrance to the memorial at Bayfront Parkway. And on a recent afternoon, country music plays softly as five homeless people crouch hidden behind Sam Nettles' statute.
The large statue depicts a nude mother with her baby nestled safely in her crossed legs with the father leaning over her shoulder and praying hands over their heads symbolically protecting them.
Who's protecting the memorial? Not the city. Roughly two months after Inweekly first described the rundown conditions that the city has allowed to happen at the Hawkshaw Lagoon Memorial Park, the site on the Pensacola Bay waterfront downtown appears even worse than before.
Clark Thompson remains dismayed at the lack of attention to the national memorial. He was on a committee that spearheaded the development and raised roughly $750,000 to develop it.
"It kills me," Thompson told Inweekly. "This is the only memorial in the United States to missing children and the city can't seem to care."
In Feb. 25, 2008, the city took ownership the memorial and agreed to maintain the site in a "good state of repair and cleanliness." That obviously hasn't occurred.
Thompson has lobbied city parks and recreation department officials, Mayor Ashton Hayward repeatedly to do repairs and fired off an email Aug. 8 to City Council President Brian Spencer. No action has been taken. Thompson, who passes by the memorial every morning and afternoon said he has found homeless still sleeping overnight at the memorial site.
"They've (city officials) got to do something sooner or later," Thompson said hopefully. "They're just ignoring it as long as they can."