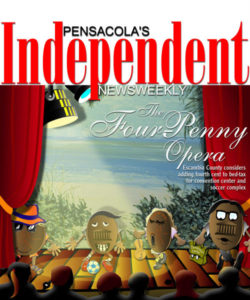 The success of Pensacon has reignited a discussion for a convention center. It's a worthy topic. The fourth-cent of the bed tax was originally presented as a funding source for just such a venture. The penny tax on short-term rentals was used to finance the Pensacola Civic Center.
When that tax expired in the late 1990s, Escambia County looked a renewing it to fund a convention center
In 2000, the chamber paid for a $100,000 for a study on the feasibility of a convention center. Its board issued this statement: "The Pensacola-Escambia metropolitan area is lacking in sufficient meeting and convention space and to have a balanced tourist development effort the convention element needs to be enhanced."
Hotelier Julian MacQueen and members of the Santa Rosa Island Authority proposed a plan to bring back the fourth cent that would bring to Pensacola Beach a 80,000-square-foot convention center, 500-lot parking garage and a 500-room resort hotel.
The Board of County Commissioners, led by W.D. Childers, appeared to be open to the idea and added a $3-million soccer complex at Brosnaham Park to the plan to win support from the rest of the county. However, the plan feel apart because Perdido Key, downtown Pensacola and other parts of the county were lukewarm to the building a center on the beach tied to a privately-owned hotel.
PNJ columnist Mark O'Brien summed up the feelings of the naysayers, "Yes , a convention center would help the tourism industry, but even now Pensacola has more than enough low-paying clerk, waitress and dishwasher jobs. It won't benefit the community at large." (PNJ, "Convention center won't help city make meaningful progress," May 9, 2000)
A referendum for the fourth-cent passed. The convention center and parking garage were not built, but MacQueen did build his resort. A token amount of the money went to Brosnaham, but nowhere near $3 million.
A year later, TriMark, a Dallas-based company, proposed to build a 135,000 square-foot convention center for Marriott on Perdido Key. That plan blew up with it was pointed out that the county's comprehensive plan forbid using public money to build in a coastal high-hazard area. All of Perdido Key is high-hazard.
In 2003, City Community Redevelopment Agency Director David Bailey brought up the idea that the property around the Civic Center could accommodate a full-scale convention center, complete with exhibit halls, an auditorium, ballrooms, meeting rooms, orchestra pit, dressing rooms and concession space.
It got some traction during a series of meetings led by urban planner Ray Gindroz, who was paid $200,000 to study the city's historic district. Then we were hit with Hurricane Ivan and Gindroz's study was placed on a shelf somewhere in city hall. The land near the civic center was developed to be a Tech park to attract high-tech companies.
I'm happy the current Board of County Commissioners is open to reviewing a renovation of the Pensacola Bay Center and the possibility of adding a convention center. Will the hotel industry agree to allow the fourth-cent to be used to finance a convention center? Will they agree on a location?
The answers to those two questions will determine if a convention center is built any time soon.
Editor's Note: The image above is our cover from our Feb. 17, 2000 issue when we first covered this topic.