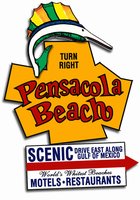 From Fiesta of Five Flags:
Can You Guess The Identity of Fiesta's King and Queen?
From June 3-13, Pensacola will celebrate the 61st Fiesta of Five Flags celebration – the oldest and largest festival in Florida.
According to Hal Major, president of Fiesta's Board of Governors, the purpose of Fiesta is to celebrate the city's heritage, promote tourism, and build pride in Pensacola. The festival also pays tribute to Don Tristan DeLuna, the founder of Pensacola in 1559. Each year a Pensacolian is chosen to wear the crown of DeLuna during the celebration. Last year, it was Dr. Stephen F. X. Zieman, with Mary Katherine Renfroe serving as queen.
Here's the first clue to help you to identify this year's DeLuna. He was born south of the Mason-Dixon Line during the administration of the only American president elected to more than two terms. His father served in the U.S. Army during WW II. Looking at his age, this year's DeLuna doesn't qualify to be a member of the Baby Boomer generation. In his younger days, he worked in the furniture business on the manufacturing and distribution side.
When his young queen is revealed, people will see a native of the Sunshine State who was born during the final month of the Reagan administration. She will be making her second appearance in a Fiesta Court. In her early years, she enjoyed gymnastics and ballet.
For more information on Fiesta of Five Flags activities, please visit www.fiestaoffiveflags.org.