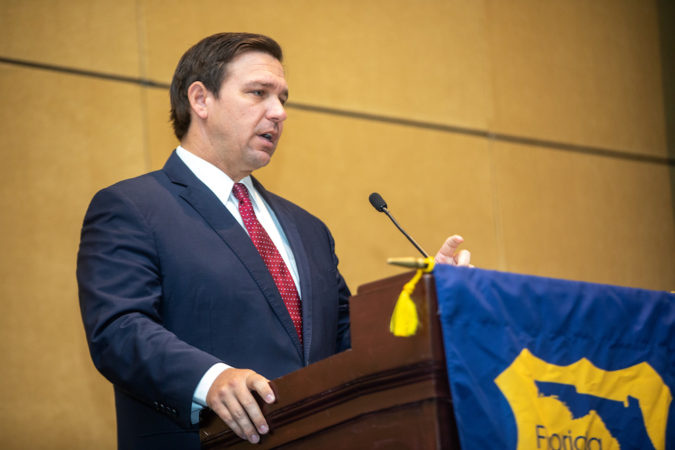 Minutes ago, Gov. Ron DeSantis issued an executive order asking people to stay at home across the state. Under the order, which goes into effect midnight, Friday, April 3, people are only permitted to leave the home for essential services or activities.
Inweekly will publish the executive order once it's made available.
---
Update from The News Service of Florida – 1:18 p.m.
Gov. Ron DeSantis said Wednesday he will issue an executive order calling for Floridians statewide to stay at home, a move that he had been resisting as other states took similar steps because of the novel coronavirus.
"Even though there are a lot of places in Florida that have very low infection rates, it makes sense to make this move now," DeSantis said, adding that he spoke with the White House before making the decision.
DeSantis did not go into great detail during a news conference Wednesday afternoon but said the order will take effect Thursday night. He said it will be directed at individuals and not businesses. But he said Floridians will be allowed to obtain essential services, and people performing essential jobs will be allowed to move about.
DeSantis said it is modeled after restrictions already in place in Miami-Dade County, which has been one of the hotspots for the pandemic. For most of the last two weeks, DeSantis has raised concerns about imposing any kind of statewide order, saying the virus had not spread to all 67 counties. On Tuesday, he also said a statewide order had not been recommended by members of the White House coronavirus task force.
---
Commissioner of Agriculture Supports Order – 1:23 p.m.
Tallahassee, Fla. – Today, in response to Governor DeSantis issuing a stay-at-home order due to COVID-19, Florida Agriculture Commissioner Nikki Fried, a statewide elected member of the Florida Cabinet, offered the following statement:
"When I called for this stay-at-home order nearly two weeks ago, there was a reason. It was necessary to flatten the curve and save lives. I said then I would stand with the Governor when he issued the order, and I do so now. Thank you, Governor, for making the right call. Together, we will fight this virus and preserve the state we love."
Commissioner Fried first called on the Governor to issue a stay-at-home order on March 20, and has continued calling for this necessary order since then.
---
1:38 p.m.
Executive Order 20-91
Here is the link.
I have also broken it down into three parts:
EO 20-91 Order
CISA supporting
EO 20-89
I will write more once I've had a chance to go through it.