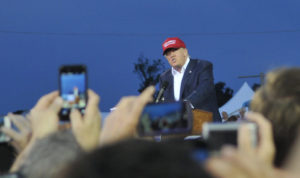 The Pensacola Bay Center sent out a press release with the details of GOP presidential candidate Donald Trump's campaign stop in Pensacola.
The doors will open 5 p.m. at the Center on Wednesday, Jan. 13. You will need tickets to get in – here. The show begins at 7 p.m.
For more info, visit Donaldjtrump.com
From the Pensacola Bay Center staff:
We ask all guests to arrive early and travel light, as you may be subject to search, which includes metal detecting hand wands upon entry. For safety reasons, prohibited items include but are not limited to:
· Alcohol, drugs, illegal substances or any paraphernalia associated with drug use
· Audio/Video recorders, professional cameras, tripods
· Cans, bottles, coolers or other similar containers
· Fireworks
· Flags/Signs with poles
· Umbrellas
· Laser pens/pointers of any type
· Noisemakers such as air horns
· Outside food or drinks
· Oversized bags, backpacks, duffel bags or diaper bags
· Pepper spray/Mace
· Weapons of any type, including chains, knives, firearms and spiked jewelry Any other item deemed unacceptable by event/building management.
Parking
Pensacola Bay Center offers convenient parking adjacent to the facility. Lots at the Pensacola Bay Center are $10 CASH ONLY day of event. Special needs parking and entry is available via the Alcaniz Street entrance.