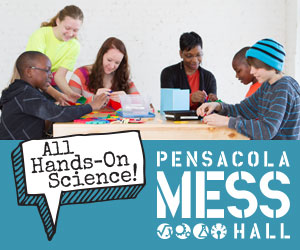 The Pensacola MESS Hall is partnering with Global Learning Academy to plant the seeds of creativity through hands on science activities with T-E-C (Tinker-Explore-Create) Studio. This program is supported by Disney, through a Creativity Garden grant, a nationwide project of the Association of Science-Technology Centers [ASTC].
Pensacola MESS Hall staff will make five visits to all of the 3rd and 5th grade classrooms at Global Learning by the end of the school year. Each visit will focus on a different fiction book, such as Jack and the Beanstalk and the Three Little Pigs. After the story, students will participate in a hands on activity where they will "mess around" to create their own solutions to problems encountered by the story's characters. Throughout the activity, the science and math concepts incorporated in the designs will be emphasized.
This grant program aims to cultivate young minds to think creatively. Creative thinking helps foster advances in science and innovation. Each activity incorporates several key components of creativity, including imagination, originality, flexibility, motivation, and communication.
"Through the use of fiction books, we will challenge students to imagine worlds that have never existed and create a model of that world. Ultimately, we hope to empower students to imagine how they can use science and engineering to modify and improve their real world," said Dr. Megan Pratt, executive director of the Pensacola MESS Hall.
This program aligns with Escambia County School's Vision 2020 plan, which emphasizes collaboration, creation, and student driven learning opportunities. In addition, the activities are cross-curricular, with elements of language arts, social studies, arts, math, and science.
The MESS Hall's outreach programs were initially supported by a grant from IMPACT 100. Programs such as family science nights, science shows, computer programming workshops, and Tinker Tots, enhance the science curriculum at area schools.
For more info on the MESS Hall, go to pensacolamesshall.org.