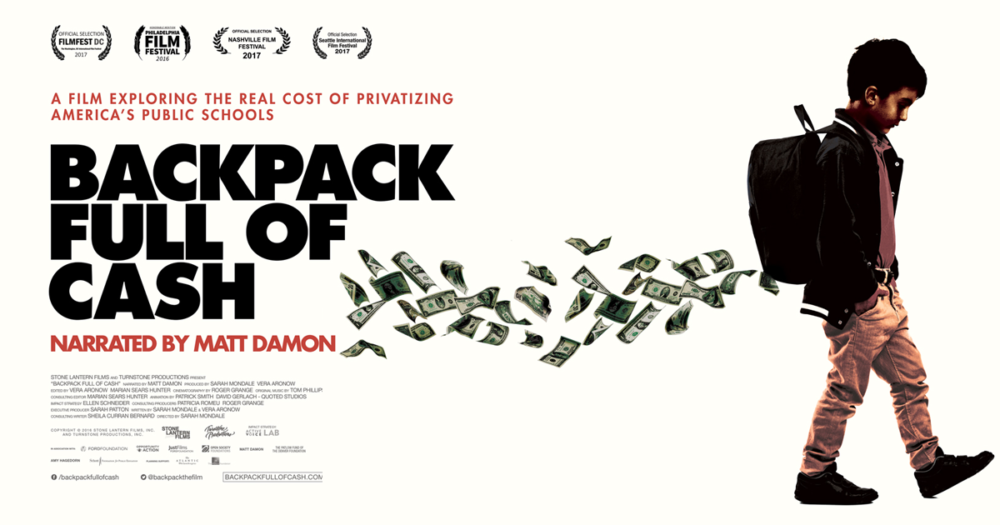 "Backpack Full of Cash" is an award-winning documentary narrated by Matt Damon.  It explores our national traditional public school systems under attack by those who would privatize and turn the Education Budget into a personal cash cow. Schools cannot be run like businesses. It is our commitment to educate every child to the best of his or her ability, regardless of individual differences or zip codes.
League of Women Voters of the Pensacola Bay Area and the Escambia Education Association will host a screening and panel discussion 6 p.m. Monday, Sept. 24 at Booker T Washington High School Auditorium, 6000 College Pkwy. It's free and open to the public.
The documentary looks at several school systems in the nation, the panel will bring the facts about our state and local schools. The panel will discuss what can be done to make our schools the strongest ever.
---
Message from the Filmmakers
by Director/Co-Producer Sarah Mondale and Producer/Co-Editor Vera Aronow
We both grew up with a deep respect for public education—we were taught that it was a cornerstone of American democracy, on par with the Declaration of Independence.
Sarah: "My grandmother taught music in a one-room schoolhouse. My mother taught English to adult immigrants. I myself am a former teacher. My father, a marvelous historian, loved to tell me about this country's longstanding respect for public education.
"Just look at the Northwest Ordinance," he would say. "When we were barely even a country, all the new states had to set aside land for public universities and 'forever encourage schools.'"
Vera: "I grew up in the Philadelphia metro area and had so many family members involved in public schools it was hard to keep track of them all—nurses, librarians, teachers and of course, students. My recently deceased mother went to school in West Philadelphia and in her later years, in her nineties, she could not believe the devastating budget cuts.
As the attacks on public schools and teachers increased in recent years, we became worried. We decided to do something about it.
"It took us five years to make BACKPACK FULL OF CASH, and our fundamental concern has not changed: Why dismantle our public school system? Instead, why not make it work for every
child?"
With the election of Donald Trump and the appointment of Betsy DeVos as Secretary of Education, we are even more concerned. But while making this film, we met so many wonderful
students, teachers, and activists who inspired us.
We hope you also find them inspiring, and take action to strengthen—not abandon—our system of public education.
Sarah Mondale, Director/Producer
Vera Aronow, Producer/Edito