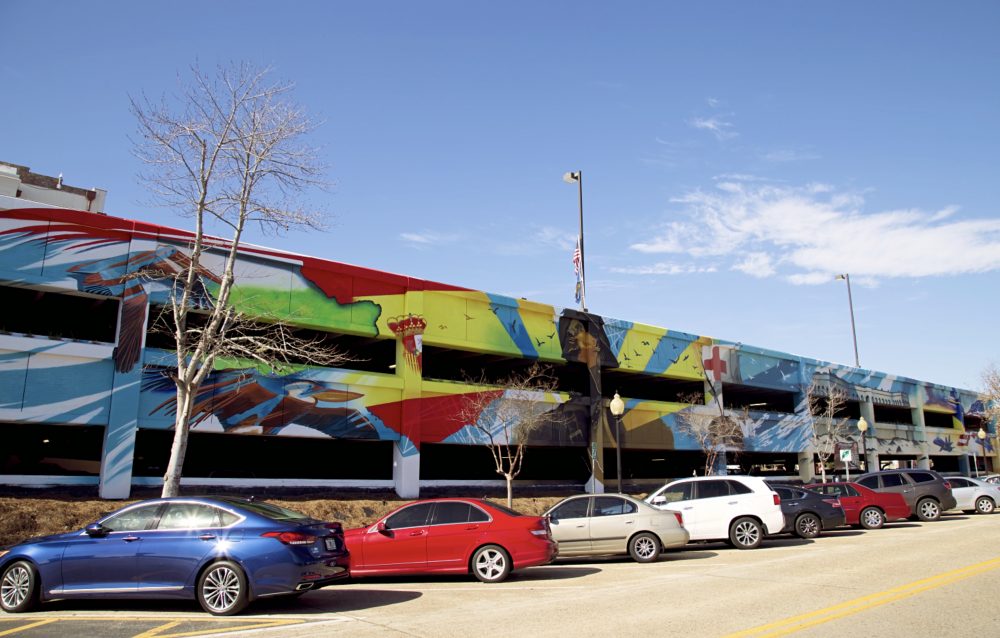 On Wednesday, Jan. 25, at 10 a.m., local non-profits Friends of Downtown Pensacola and Foo Foo Festival will join the Downtown Improvement Board in dedicating a newly completed 3,000 sq. ft. mural painted on the southeastern facing wall of the Jefferson Street parking garage. The public is invited to attend the official "unveiling" of the giant mural, designed and painted by local artists Evan Levin and Ashton Howard.
The mural depicts Pensacola's iconic story with symbolic imagery of the U.S. Navy Blue Angels, The Pensacola Lighthouse and Spanish explorer Tristan de Luna who settled in Pensacola in 1559. It is the largest public art project in Pensacola, made possible through a Foo Foo Festival grant from Arts, Culture and Entertainment (ACE), Inc. The dedication ceremony will celebrate this colorful addition to the downtown district and all of those who had a hand in making it a reality.
Over a period of some 90 days, fine artists Levin and Howard scaled the wall of the Jefferson Street Garage on a scissor lift to transform the plain red brick walls into a vast mural that now illustrates Pensacola's heritage and commemorates the recent discovery of the oldest settlement in the U.S.
The Jefferson Street mural project is the largest single piece of art ever created by Levin or Howard, and both artists are happy with the feedback they've received from the community. "It feels amazing to go from a digital concept and bring it to life on such a large scale." commented Levin, "It's extremely rewarding to step back and look at the finished painting and see how much it has changed."
Adds Howard: "It's very fulfilling to receive positive feedback from people that either pass by the garage or park there on a daily basis. We hope for this to be the first of many more public art projects in Pensacola—here's to more downtown murals in 2017."