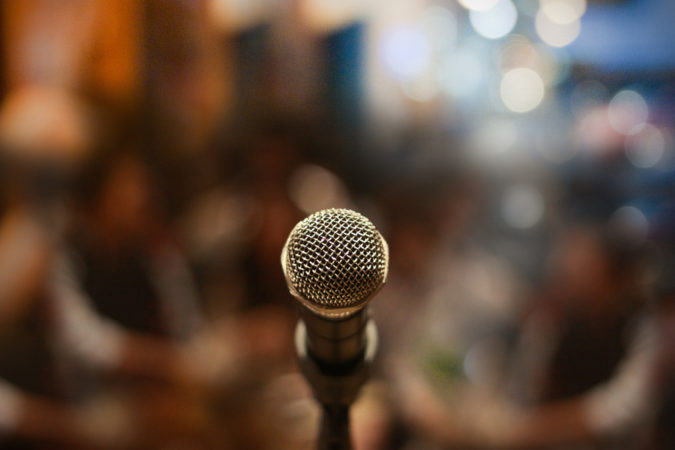 by Jeremy Morrison, Inweekly
Members of the community organization Dream Defenders publicly staked out its position on the city of Pensacola's response thus far to an incident in July during which a citizen was fatally shot by a city police officer.
Jamal Davis began his comments during the public forum of the Community Redevelopment Agency by casting doubt on the city's official version of the July 5 event. The Pensacola Police Department has stated that Tymar Crawford was fatally shot by an officer after disarming another officer.
"We know and the police know and we believe that the city officials know that this story is a lie," Davis said, asserting that there exists privately held video evidence to support this.
The police shooting of Crawford is currently being investigated by the Florida Department of Law Enforcement. City officials—notably Mayor Robinson and Police Chief Tommi Lyter—have indicated they will hold off on any action until FDLE wraps up its investigation, although both have also said there is a need for more training of a police force with a bench heavy with young officers.
Earlier in the day, during his weekly press conference, Mayor Grover Robinson had fielded a question about the existence of a video of the incident.
"I don't have a video," the mayor said, adding that when the FDLE investigation ended the city would make officer body-cam footage public in an effort to be "as open as possible."
"We're going to be absolutely open. We want to put it out there and let everybody see it and see all the facts when they get it."

Mayor Robinson
Dream Defenders has previously issued a list of demands to city officials in the wake of the police shooting. Davis reiterated those points Monday at the CRA meeting.
"These police are paid with our tax dollars and they're out here harassing and killing citizens," Davis said, requesting the city release the identities of the officers involved in the incident. "We have a right to know their names and faces."
Other demands the organization has issued to the city include the dismissal of the involved officers, the deprioritization of crimes such as marijuana possession (the pretext of Crawford's pursuit) and financial restitution to Crawford's family to cover funeral expenses and therapy. The group is also wanting to see the city conduct quarterly police training with a focus on minimizing the use of force, and also that it establish a "civilian oversight structure" by next summer.
Davis noted to city council members that a good chunk of the city's budget, around 60 percent of its general fund, is committed to funding public safety.
"Yet here we are feeling anything but safe in our city," he said, suggesting that some of the funds be used towards such things as quality mental health care, affordable housing and public education.
During the Monday morning press conference, Mayor Robinson and Chief Lyter had formally announced a partnership with the federal government aimed at curbing a recent spike in gun violence, which also featured an officer training component. The partnership, which will result in a multi-level task force to tackle regional gun violence issues, is geared more toward crime prevention, but Mayor Robinson has also pointed to the effort as useful in providing law enforcement with training relevant when it comes to use-of-force issues.
Davis wrapped up his remarks with a critique of this city-fed partnership, contending that inviting additional law enforcement agencies to the area would not be productive.
"More policing is not the answer."

Jamal Davis
Another Dream Defenders representative also attempted to speak during the CRA public forum, but City Councilwoman Jewel Cannada-Wynn, who sits as the CRA chair, shut her down—"you do not have the floor young lady"—and explained that the CRA can only address issues pertinent to the special downtown taxing district.
"I know that this is a very passionate issue," Cannada-Wynn said.
Following the Dream Defenders appearance at the CRA meeting, Haley Morrissette, a representative with the organization, offered a statement.
"Mayor Robinson has chosen to speak out of both sides of his mouth," Morrissette elaborated the organization's position in a written response when asked for further comment.
Morrisette charged that the mayor is "playing lip service to the people of Pensacola who are rallying behind Tymar Crawford and his family," while also engaging federal law enforcement in an exercise the group believes is going to "make our policing problem worse."
"Instead of addressing the inequities, training for current officers and lack of resources that drive the violence that has actually decreased in the last year, he has chosen to contradict himself," Morrissette wrote. "And actions speak louder than words."