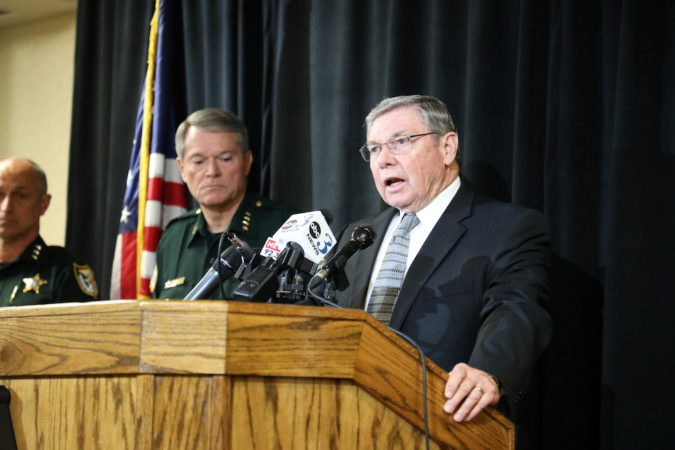 At Tuesday's press conference, State Attorney Bill Eddins said the rise in gun violence, particularly among young people, is not isolated to Escambia County and the city of Pensacola.
"The crime is being, violent crime is being committed by younger and younger people," said Eddins. "The violence is escalating and one of the primary reasons is that America is washed in drugs. And that is really what a lot of the crime is about."
He complimented both Commissioner May and Mayor Grover Robinson for what they're doing for at-risk children and with community outreach. He also talked about the high level of cooperation among the local, state and federal law enforcement agencies.
"Yesterday I was in a meeting where we had over 30 people from many agencies including the Sheriff's Office, the police department," said the state attorney. "We shared intelligence, we shared leads, all the agencies did as well as my office. "
He said that he has assigned investigators and special prosecutors to work closely with law enforcement. Eddins added, "We saw yesterday there was no turf wars. It is unusual to see the extent of co-operation that we have here between the different the law enforcement agencies in my office."
To booster his and Sheriff Morgan's statements that "violent crimes are being committed by ever younger and younger people." The state attorney discussed the recent arrest of  young juveniles that were "organized and routinely and constantly burglarize cars in order to obtain guns. "
"In my office, as a result of the excellent work of the Sheriff's Office and his co-operation with other agents, we're currently prosecuting 17 of individuals; most of them between the ages of 15 and 19," he said. "We have 168 cases pending, primarily car burglaries but also burglaries of homes looking for guns. And we found one and we're able to connect that gun to an armed car jacking, and that case is pending as well."
The state attorney defended his policy of  transferring juveniles who commit violent crimes to adult court. And I've received criticism from various people throughout the community for that and I'm here to tell you that that's my policy, it's been my policy and it's going to continue to be my policy for two reasons.
"The juvenile system is not equipped to properly deal with those kinds of people," said Eddins. "They are equipped to deal with children that commit minor crimes and do not recommit."
He continue, "In fact, I'm very proud of the fact that my office has interacted with community leaders, like Commissioner May, to establish a civil citation program that's result in 48% of the juveniles that commit minor crimes are treated as a civil citation. I believe that civil citation program has been remarkable in keeping young juveniles out of major crimes."
Eddins said that to effectively combat the new level of violence, he must continue transfer  juveniles that commit violent crimes to adult court. He pointed out the justice system does have a safeguard.
"If a judge disagrees with me, at the end of the case after everything's been deliberated, he can still consider him as a juvenile," said the state attorney.  "I'll report to you that in less than 5% of occasions, where I prosecuted juveniles as adults, has the judges gone back and sentenced them as juveniles."
He added, "We do not simply transfer them. We ask for a very harsh sentences because by that time, that's the only way that we can protect you. Most of the time, I assign special prosecutors to them. Many times, I do not plea bargain those cases and I report back to you to let you know, that along with the other agencies, our office is doing everything we can to combat this problem. Unfortunately, we're close to Interstate 10, with drugs coming in to this community and throughout America is just incredible and unbelievable."
---
Photo courtesy of Jennifer McKeon, WUWF