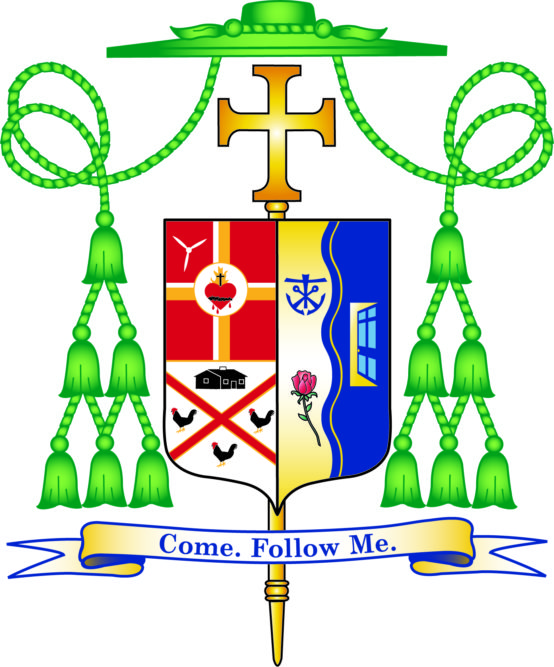 Yesterday Most Reverend William Wack was ordained and installed as the sixth bishop of the Diocese of Pensacola-Tallahassee. Here are few facts we learned:
1. He was born and raised in South Bend, Indiana and is the second youngest of 10 children. His last name is pronounced "wok."
2. He has bachelors and master's degrees from the University of Notre Dame. After his ordination, he returned to Notre Dame as the associate director of vocations for Holy Cross, served as Director of the Freshman Retreat Program and worked in Campus Ministry.
3. He is a member of Congregation of Holy Cross, whose mission is to be educators in the faith in schools, parishes, and other works of missionary outreach and social justice.
4. 135 priest attended the ordination – 66 from Pensacola-Tallahassee Diocese, 27 from the Congregation of Holy Cross, 18 from Austin and the remainder from other dioceses.
5. The music to accompany the laying on of hands by the bishops was "Gabriel's Oboe," the theme song of the movie The Mission. It has been traditionally played at many ordinations of Congregation of the Holy Cross priests.
6. The city of Pensacola is represented in his coat of arms. In the upper left is a silver airplane propeller to denote that Pensacola is principally known for the largest aviation training school in the world for the U.S. Navy.
7. His motto is "Come. Follow Me," which comes directly from the Constitutions of the Congregation of Holy Cross. It is seen as a bold statement from Bishop Wack to follow him as he follows Christ in the manner laid out by St. Paul who wrote: "Be imitators of me, as I am of Christ" (1 Cor 11:1). Rather than have the motto in all uppercase letters, it contains a combination of upper and lowercase letters to convey a gentle invitation instead of a command.
8. His brother Neil is also a priest. At the service, Bishop Wack joked that when he received the phone call to become the bishop of the Diocese of Pensacola-Tallahassee, he asked, "Are you sure you have the right Father Wack?"