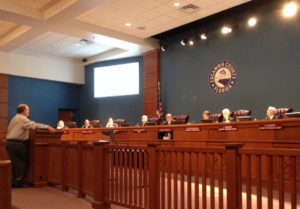 In an effort to address crime, commerce and "quality of life" issues, Escambia County officials have decided to try out an open-container ban for the core area of Pensacola Beach. The move comes after concerns were raised over the impact of public drinking on the atmosphere at the beach.
"We absolutely still want to find ways for you to enjoy yourself, but do it in a responsible way," Commissioner Grover Robinson said prior to the board voting unanimously to pass the alcohol ordinance Tuesday morning.
The new ordinance prohibits alcohol consumption or possession of alcohol in an open container in public areas of the core commercial area, to include parking lots, sidewalks and the boardwalk, but not to include sandy areas of the beach. The ordinance will not be enforced until March 1 of next year. From that point, it will be in effect for one year, followed by a three month period during which its effectiveness will be evaluated. By June 2017, the ordinance will sunset unless reenacted by commissioners.
Robinson, who brought the ordinance concept before the commission, nut-shelled it in a phone interview last week.
"We want to stop this before we get to a Bay County situation," Robinson said.
For decades known as a Spring Break wonderland for hard-partying students, Panama City Beach in Bay County recently became a lot drier.
"Bay County cracked down on everything," Robinson explained. "They said, 'you can't even take it on the beach.'"
The commissioner said he hoped a ban on open containers and alcohol consumption in public areas in Pensacola Beach's commercial core will help alleviate some issues — such as fights — that have arisen in recent years.
"I think if we're proactive we can address some of the concerns beforehand and not instate the draconian measures Bay County has."
Robinson said that the matter had been brought to his attention by business owners from the beach. They feared the commercial impact that could result from an uptick in what Commissioner Doug Underhill termed "hooliganism."
"If you don't have safety, you won't get repeat tourism," Robinson had said, "They see it as a threat."
Some Pensacola Beach business owners appeared before the county commission Tuesday to state their case.
"We do not send our people to the boardwalk," said Julian McQueen, who's company owns several hotels on the beach. "We are afraid for the safety of our people."
Mike Penzone, who operates a pizza joint on the Quitewater Beach Boardwalk, said he supported the ban even though he stood to lose money on the refillable cups he allowed patrons to leave and return with.
"When this alcohol thing started it was okay," Penzone said, "but over the years it's gotten out of hand."
Chief Deputy Eric Haines, of the Escambia County Sheriff's Office, confirmed to the commission that the atmosphere at the beach could grown unruly.
"My family and I go out to the beach to eat regularly, and I would not go to Quitewater Beach if it was after seven," Haines said.
The deputy noted that it was not illegal for people to get "sloppy drunk," but said the combination of crowds of people doing so on the beach tends to lead to a "powder keg" scenario in which crimes, typically involving fights, occur.
"People over serve themselves when they're allowed to bring their own alcohol," Haines said.
Local beer distributor Lewis Bear urged commissioners to consider the sunset provision if they chose to enact a ban.
"This gives you the opportunity to see weather or not prohibition solves criminal problems," Bear told them, informing the commission that he would be hiring his own firm to conduct research and collect data on that front.
While some beach business owners pushed for an ordinance which would receive a review but would remain on the books unless officials went through a formal removal process, commissioners chose to allow the ordinance to sunset 18 months from the date of enforcement. In doing so, they hope to be able to evaluate its impact on not only the area's crime activity, but also less tangible elements such as the new ordinance's impact on commerce and the overall scene on the beach.