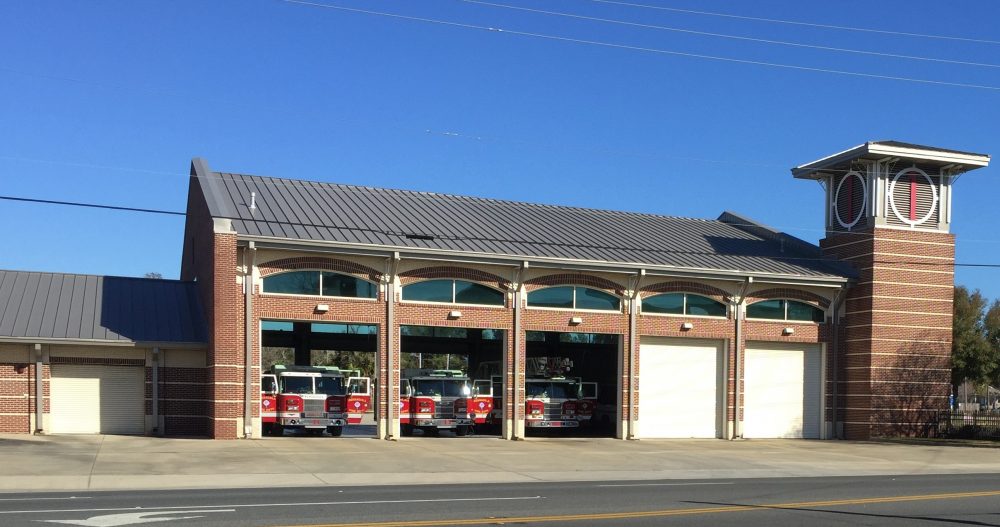 This morning, Inweekly broke the story that the City of Pensacola settled the discrimination lawsuits filed by former Fire Chief Matt Schmitt and Deputy Fire Chief Joe Glover for $575,000.
The settlement was finalized in the last weeks of Mayor Ashton Hayward's administration.
The fire chiefs' attorney Rocco Calamusa told Inweekly how his clients felt about the settlement: "They are both glad that they stood up for what they believed was right and with this resolution, their resignation, and the payments, they have been vindicated and are ready to move on with their lives."
Yesterday morning, former Chief Schmitt gave Inweekly an exclusive interview, his first interview since he was placed on administrative leave three years ago this Saturday.
What was it like being placed on administrative leave?
"Being placed on administrative leave was a shock. We were brought downtown, Joe and I, under auspices that we were going to meet with Olsen on some other issue, not to be suspended and/or placed on quote 'administrative leave.'

And then, to have all of our cell phones, vehicles, keys, radios confiscated at that point in time and then escorted out of city hall, eventually, and told not to darken city property with our presence unless we had permission from them—was a shock."




Why did you file the EEOC complaint?
"Under the guise of holiday pay, because there hadn't been a raise in the city since 2008-they came up with some money and everybody in the fire department got that raise, with the exception of me. And that's not the first time I've been discriminated against in pay.

Anyway, long story short, I felt like, being the only one in the fire department that was denied that little raise, such as it was, was discrimination on their part.

And that goes back to my defense of Joe over the last year. They were paying me back for supporting Joe and his claims of discrimination primarily against system. So, I chose to file an EEOC complaint at that point."
What was your pay? Can you remember what it was annually?
"Right at $89,500-$90,000."
The new fire chief is paid $103,937?
"Correct. And at $89-$90,000, that's deputy chief pay. The current deputy chief is drawing that pay.

By the human resources manual, I should have a ten percent incentive to be interim fire chief. That was denied me for six years. So, I didn't get that either. And, of course, they never appointed me chief, even though I'd acted in the position for six years."
Editor's note: When CFO Dick Barker was interim county administrator after Colleen Castille resigned in 2014, he was paid an additional $700 per week. In August 2015, Barker was paid a 10-percent stipend for taking on supervision of the port, airport and natural gas services.
What was Joe Glover's pay?
"Joe was making $85,000, and he should have been making $89,000 with me. The previous three white deputy chiefs were making the same money I was. And he was a black deputy chief and he was five thousand dollars less by design, because if they would have brought him up to my pay. Being interim, I should have commanded more."
You reported to Olsen in the fall of 2015 that felt like Joe was being discriminated against by Ed Sisson (Chief Human Resources Officer)?
"Correct. I launched a formal verbal complaint twice with Olsen in the fall of 2015."
Okay. And what was Olsen's reactions to it?
"He said things like: 'They don't get along, personality clash, you need to let this go, water under the bridge, we need to move on.'"
Why weren't your complaints in writing?
"At the staff meeting of all the department directors—I don't remember which month in 2015—he directed all of us if it had anything to do with personnel or could be controversial to not put it in email, only telephone call or face-to-face."
When you received the six issues in Sisson's complaint, what were your thoughts on those?
"I thought that they were not relevant to the case. I felt personally that this was a witch hunt.

At the Feb. 2 meeting, Joe and I invoked our Firefighter Bill of Rights. At that time, they should have had the charges and slid them across the table to us—not nine days later or whatever it was after they got them ginned up and sent them to us through Van Sickle in the mail.

They put the cart before the horse. And I think it was this desire to proceed, even though they weren't prepared to do so. In their case, I don't think they thought that we would invoke our Firefighter Bill of Rights. I don't think they did. I don't think Sisson did.

You have the autonomy, as the department director of the Fire Department, per the job description, to do every action I took. Legally."
Lt. Deas was allowed to rebut the written reprimand that Sisson and Olson signed off on. However, you were never allowed to rebut that report.
"Correct. And even on the form it says, a written reprimand is not rebuttable, but they allowed it."
What are your thoughts on the settlement?
"I felt like we could have prevailed in court, but the attorney is hired to do what's in the best interest of his client. Rocco felt like that we needed to go ahead and settle. And he was driving the car, of course.

But Joe and I together felt like we had a good case to go to trial. But this is the first lawsuit I've ever been involved in any way, shape, or form, so the learning curve was, well, I learned as we went."
Where you surprised Mayor Hayward didn't ask the City Council for approval of the settlement agreement?
"And the legislative body needs to approve it. I was always raised up– you couldn't do anything in this city without council approval. After the charter changed, the mayor spent millions on anything he wanted to, it seems. And not be accountable.

And then the city council, my councilperson included, they just said. ' Oh well.' And really, if they're not going to exercise their legislative responsibility, what do they have to do?

They need to get an outside agency to do an intensive forensic audit of the city's books. It's needed badly. I don't know if that'll ever happen, but it's desperately needed.

I've been exposed to it for years, and the way they move money around within the budgetary process, is extremely complicated. And anybody but a forensic accountant can't figure out what they're doing, robbing Peter to pay Paul.

I'm not saying it's illegal, but it's not apparent to 99 percent of people what goes on within those budgets and how the money is moved and stashed in these pots to be used elsewhere."
How are your thoughts on the ordeal?
"The way they came in, I was completely caught flat-footed. I never expected that. Now, I did expect from the mayor, 'Hey Matt, you know, we've had a good run. I want to put a new team together. You're all right with our employees. I just no longer need your services.'

Especially after 36 years of service, being the interim fire chief for six years, I thought I would have gotten a little more respect than that. But man, their hatred for Joe Glover, and then me secondarily, they pulled out all the stops."
On whom do you put most of the responsibility on that?
"Rusty (Wells) and Dick (Barker), they're it. They're the stop gap. They're the wizards of Oz behind the curtain. They're it."
Anything you want to add?
"Just that I'm sorry that it happened the way it did. That those elected officials and appointed officials chose to drag the city, the fire department in general, through something so ridiculous.

Yeah, I was the victim. But why would you do that to a community, a department, a city, and employees in general?

As far as I'm concerned, the employees have taken a huge hit these past eight years. They're second class citizens and they're treated shabbily.

And not just me, but all city employees have been victimized in the Hayward administration.

I came up through the system. They paid for tuition assistance. They paid for education. They paid for professional development. They spent tens of millions of dollars in my generation training us, educating us to do our jobs most effectively as we could for service delivery to this community.

And all of that is blown by the wayside. They don't give a hoot about service delivery anymore, in my humble opinion.

All they care about is that it's up and running, and that the number of complaints they're getting are manageable."