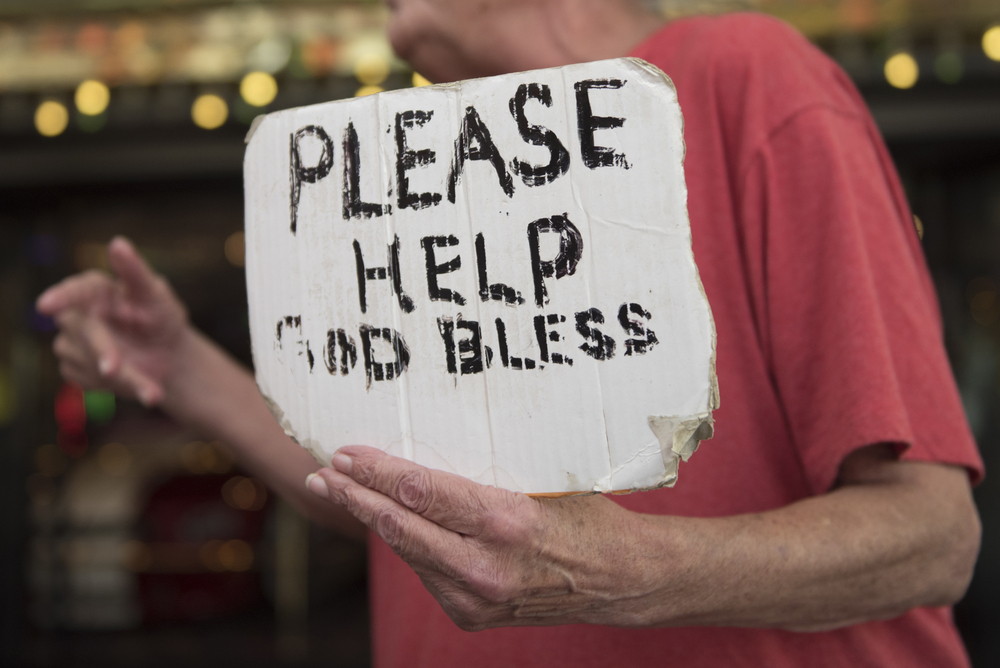 By Jeremy Morrison, Inweekly
Pensacola Mayor Grover Robinson discussed panhandling at his Monday press conference. His comments about fining those who give to panhandlers has caught statewide media attention.
The mayor first discussed an upcoming meeting on homelessness.
On April 5, the city is hosting a Homeless Summit in an effort to engage community nonprofits that assist the homeless community. The city and Escambia County are currently working together to address the overall issue of homelessness, with plans to later enact ordinances aimed at panhandling (the ordinances stand a better chance against certain legal challenges if the city has made efforts to address homelessness first).
A cornerstone of the city-county plan thus far involves creating a come-as-you-are shelter for people to seek help. The center would ideally host community organizations that work with the homeless. Robinson said Monday that while no firm plans have been made, the site would likely be located in the vicinity of the old Town and Country mall, near a public transportation center and multiple services already used by the homeless community.
"That area has already a lot of things that fit for what's needed, transportation wise, community services, a variety of things, healthcare is nearby," the mayor said, adding that the area also was a borderline between the city and county. "That corridor has a lot of positive things for moving this where we want to go."
Robinson also spoke briefly about the ordinance side of this equation. After making an effort to address homelessness-related issues, the city intends to explore punitive ordinances aimed at stamping out panhandling.
The city has attempted such ordinances a number of times previously, each time running up against First Amendment, freedom-of-speech legal challenges. Local ACLU representatives have already pointed out that they're ready to challenge any ordinance put forward that's deemed unconstitutional.
On Monday, the mayor floated a new approach to this issue. Instead of aiming ordinances at panhandlers, how about pivoting towards the person giving the panhandler money.
"The challenge is, fining the panhandler doesn't really change anything," Robinson said. "But, I mean, do we look at fining the giver? I mean, those are all potentials, those are things we would look at."
The mayor said it was already illegal to give money from the roadway, and that the move would only take enforcing that law. He suggested traffic cameras could be employed for the purpose.
"We haven't talked about how we would do it, one way or the other, but it could be done. You could move in that direction," he said. "The rule's already there. Let's obey the rules, that's all we're asking."
If the city decided to pursue such an approach, Robinson said, perhaps the collected funds could be directed towards the come-as-you-are-shelter.
"Help'em give to what they want to give to," he said.
---
The Miami Herald has picked up the story: "Florida mayor considers 'fining the giver' to stop panhandlers."
The newspaper noted: "Pensacola wouldn't be the first city to adopt a hard-line stance against those who give to panhandlers: Last year, the City Council in Fayetteville, North Carolina, gave police the power to fine those in cars who give things to people outside their cars, the Fayetteville Observer reported."