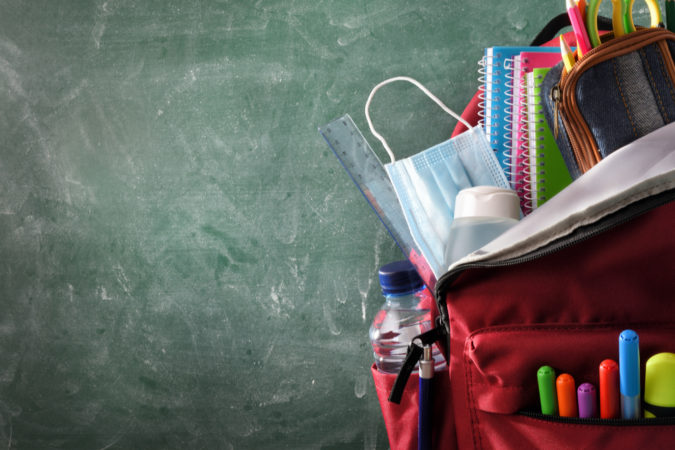 By Jeremy Morrison
We've just got to keep the kids safe
With students around the country returning to school this month as the Delta variant drives COVID spikes, some state governors — like Florida's Gov. Ron DeSantis — are attempting to bar local school districts from requiring the wearing of masks as a coronavirus safety precaution. But some local school districts, such as the one in Hillsborough County, are moving forward with mask orders despite threats from the state to cut off funding or remove educators possibly.
Florida state Sen. Gary Farmer (D-Broward) has been actively pushing for the rights of local school districts to be allowed to enact mask orders.
"We've got a state government that really is overstepping its bounds and usurping the authority of the local school districts in trying to stop these mask mandates," Farmer said recently during a 1370 WCOA interview with Rick Outzen.
Farmer contends that masks are still needed in schools to keep both students and staff safe and limit community spread in general.
"Nobody likes wearing a mask, but the evidence is overwhelming as to the safety and efficacy of masks and reducing the spread of this dangerous Delta variant," he said. "And you combine that with the fact that kids under 12 cannot get a vaccine, kids between 12 and 18, there's still some uncertainty there about getting vaccinated. So it brings you back to masks as the necessary alternative to protect our kids."
Last month, Gov. DeSantis led the gubernatorial charge in his stand against school masks mandates when he signed an executive order meant to prevent local districts from enacting such orders. But some Florida districts, such as Hillsborough and Alachua counties, as well as Farmer's home district of Broward, have issued mask requirements anyway.
"Broward County, I think rightfully said, 'Listen, guys, it's our responsibility to make these decisions. We feel the science is overwhelming. We know what our community wants.' And so they've said we're going to mandate masks," Farmer said. "Unless you have a medical reason why you can't wear a mask, then you can opt-out."
And while the Florida State Board of Education has motioned that it's prepared to consider some sort of repercussions for these rogue school districts—though those repercussions remain a bit vague, Sen. Farmer is confident and legal standoff will benefit local school districts.
"The Florida Constitution, we're kind of unique in Florida, we have the right to a safe public education. Those words are in the Florida Constitution," Farmer explained. "And this constitution specifically says that the authority and the responsibility to quote, operate and control schools within the district lies with the individual school boards. And that is really recognition, Rick, of what we call a local rule. Folks up in the panhandle may view things very differently than folks down in Broward County. And we recognize that by saying, we're going to let local school boards make these decisions."
Also seemingly on the side of local school districts is the federal government. This week, Pres. Joe Biden announced he is directing U.S. Education Secretary Miguel Cardona to look into the matter.
"I'm directing the secretary of education, an educator himself, to take additional steps to protect our children," Biden said during a press conference at the White House. "This includes using all of his oversight authorities and legal action, if appropriate, against governors who are trying to block and intimidate local school officials and educators."
While it remains to be seen how this issue will play out in a legal or political sense, Farmer said that on the ground in Broward County anyway, it's going pretty well so far. The senator visited a local school on the first day of classes and relayed a mask-happy scene.
"I was out and about yesterday for the first day of school down here and at one of the most crowded, or not crowded, one of the most populated schools in our county, and we did not have a single parent objecting to the wearing of masks," Farmer said, "because I think they recognize the school board's doing what's right and necessary to keep our kids safe."