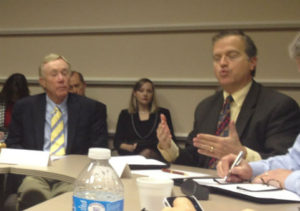 The former chief financial officer of the Greater Pensacola Chamber has filed a defamation lawsuit against the chamber CEO Jim Hizer, individually and as CEO, and the entire organization, asking for $3,262,108.80 in damages.
Brian McBroom asserts that he was the victim of defamatory attacks perpetrated and committed by Hizer in his individual capacity, and as Chief Executive Officer of the Chamber when Hizer blamed him for the loss of the BP-funded American Express gift cards.
McBroom worked for Hizer and the chamber until he was terminated on Jan. 7. According to the documents filed with the courts, his personnel file only contained positive comments. He was terminated not over job performance but it "was actually caused by the complaints of certain employees at the Chamber who did not like Mr. McBroom because he had written critical performance reviews of them in his capacity as Chief Operating Officer."
As proof of his good job performance, McBroom included in his court documents a letter of recommendation written by Hizer:
"For the past 5 years, it has been my pleasure to work with Brian McBroom. In Kentucky, he served as my organization's chief financial officer and, at my invitation, he moved to Florida to serve as my chief operating officer.

Brian is one of the most capable financial analysts and planners with whom I have worked. For example, in Kentucky, we were charged with refinancing a $25 million bond issue and Brian creatively developed a financing structure that save our organization well over $100,000.00.

He is also an outstanding communicator. On many occasions, Brian has demonstrated the rare ability to explain complex financial arrangements in an easy-to-understand manner to elected officials and volunteer board members.

Perhaps, most importantly, Brian is a devoted family man and I have often admired his commitment to a healthy work-life balance.

While his role with our organization has changed over the past several months, we continue to rely on his expertise and guidance in financial matters."
McBroom claims that during his tenure at the Chamber that he kept records of exactly who received the gift cards and encountered no problems with accounting for their distribution. However, he had no control over whether those procedures were followed after he left.
The resulting confusion at the Chamber caused Defendant Hizer to panic, and think that he might be blamed for any missing gift cards. Therefore, instead of accepting responsibility for a problem he himself created, Defendant Hizer began to publically blame Mr. McBroom for an accounting issue that had never been a problem for Mr. McBroom at all.
Because of Hizer's accusations against the former CFO, McBroom was not paid the final $12,108.84 due him as per the severance agreement.
That severance agreement had a clause that stated :
"Employee and Employer agrees (sic) to refrain from making or publishing any disparaging or negative remarks, comments or writings about each other and its employees to any third parties, including but not limited to customers, vendors, prospective customers, volunteers and other business contacts and social media sites."
McBroom alleges that Hizer breached the contract by "repeatedly disparaging the good name and character of Mr. McBroom." He cites articles in the PNJ and the IN and transcripts of WEAR's coverage of the missing cards and the audit. He claims that Hizer did it to deflect criticism from himself.
Here is a copy of the lawsuit. We've been told that it has been filed electronically, but it has yet to show up on the Escambia County Clerk of Court website: McBroom – Defamation Complaint.