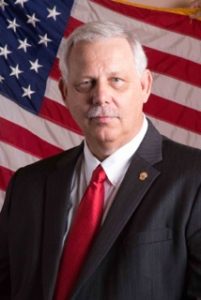 Press Release: John D. Johnson, a local law enforcement veteran and resident of the Oak Grove community in Escambia County pre-filed for the office of Escambia County Sheriff.
Johnson, a Republican, is a 34-year law enforcement veteran. Johnson was first employed in 1979 by the Commanche County Sheriff's Department in Lawton, Oklahoma. Johnson moved to the Escambia County Sheriff's Office in 1982, where he served for 9 years, both as a patrol deputy and an investigator in the narcotics unit.
In 1991, the U.S. Drug Enforcement Administration recruited Johnson to become a Special Agent with the DEA. After graduating from the DEA Basic Agent School at the FBI Academy in Quantico, Virginia, Johnson was assigned to the newly established DEA office in Pensacola where he supervised criminal investigations across the United States, Mexico and the Caribbean.
In his 22 years with the DEA, Johnson served both as a Special Agent and the Resident Agent in Charge of the Pensacola office. During his career, Johnson has received numerous local, state, national and international awards and commendations for his exemplary service, including the Enrique" Kiki" Camarena award from the Benevolent and Protected Order of the Elks in 2002 and the Miami Field Division Agent of the Year award in 2010. Johnson is a Florida certified law enforcement officer and has attended thousands of hours of specialized law enforcement training.
Johnson earned a Bachelor's degree in Criminal Justice and a Master's degree in Public Administration from Troy University, graduating with high honors.
After retiring from the DEA, Johnson became an adjunct instructor at the University Of West Florida College Of Professional Studies and a government contractor.
"I feel my 34 year career in law enforcement, as well as my academic credentials make me the best candidate to serve the citizens of Escambia County as their sheriff. I look forward to meeting them on the campaign trail to discuss the many issues facing our community."