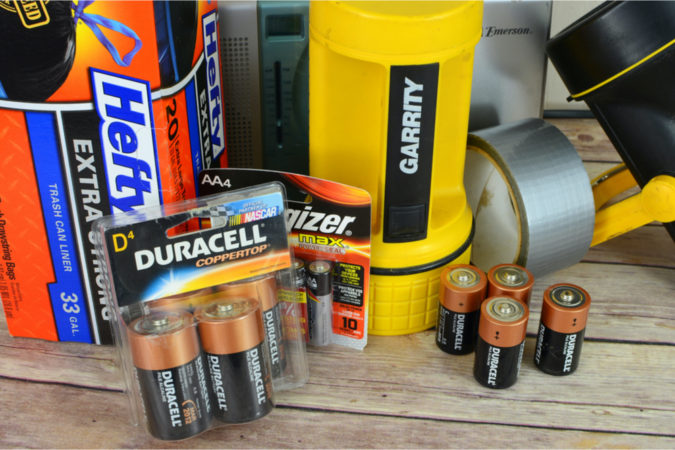 Sales Tax Holiday
Starting today through Thursday, June 4, Florida shoppers can avoid paying sales taxes while putting together disaster-preparation stockpiles for the 2020 hurricane season.
In addition to helping residents buy everything from coolers to generators, Florida Retail Federation President and CEO Scott Shalley hopes the seven-day tax "holiday" can provide a boost for businesses suffering from the economic fallout of the coronavirus pandemic, according to Jim Turner of The News Service of Florida
"I think you're going to see, again, additional incentives from the retailers to encourage sales for disaster preparation," Shalley said. "You'll continue to see, of course, all of the safe and smart shopping measures in terms of social distancing and sanitizing. But you're going to see an emphasis on sales of batteries, coolers and those sorts of things that help people get prepared now."
The state-discounted items will coincide with wider hurricane-season enticements, some already being offered online, from businesses such as Lowe's, Home Depot and Harbor Freight.
Still, federal officials have expressed concern about people being prepared for disasters this year. Hurricane season will start Monday and continue through Nov. 30.
"Social distancing and other (federal Centers for Disease Control and Prevention) guidance to keep you safe from COVID-19 may impact the disaster preparedness plan you had in place, including what is in your go-kit, evacuation routes, shelters and more," Carlos Castillo, acting deputy administrator for resilience for the Federal Emergency Management Agency, said in a prepared statement. "With tornado season at its peak, hurricane season around the corner, and flooding, earthquakes and wildfires a risk year-round, it is time to revise and adjust your emergency plan now."
FEMA's storm-prep checklist includes flashlights, batteries, portable radios, multi-purpose tools, emergency fuel, personal hygiene items, cell-phone chargers, emergency contact lists and copies of personal documents, along with supplies of water, food and medication for three days to two weeks, depending on different scenarios involving evacuation or riding out the disaster at home.
Florida lawmakers included the disaster-preparation tax holiday in a $47.7 million tax package (HB 7097) approved in March.
During the period, shoppers will be able to avoid paying sales taxes on items such as reusable ice packs that cost $10 or less; flashlights and lanterns costing $20 or less; gasoline and diesel fuel containers costing $25 or less. coolers and batteries costing $30 or less; and radios and tarps costing $50 or less.
The biggest-ticket items included in the holiday are portable generators that cost $750 or less.
The discounts are not available at businesses in airports or at public-lodging facilities and can't be used to buy car and boat batteries. The discounts also can't be offered at theme parks and entertainment complexes.
The tax bill passed in March and signed into law by Gov. Ron DeSantis also includes a three-day back-to-school tax holiday on school supplies, clothes and computer equipment. That holiday will be held from Aug. 7 through Aug. 9.
---
Shelters From the Storm
Hurricane season officially starts June 1. Governor DeSantis and the Florida Cabinet also approved the 2020 Hurricane Shelter Plan.  The shelters for Escambia County includes 19 public schools, UWF and Pensacola Bay Center  –  list.
Escambia County  encourages residents to stay informed and be prepared in the event of a disaster or weather event.
"This year with COVID-19, we really want to stress that residents have a plan rather than go to a shelter," said Escambia County Emergency Manager Eric Gilmore. "The county will provide shelters and will do everything possible to sanitize them, but we know that the likelihood of COVID-19 spreading increases when people are in close living conditions."
He added that a shelter should be a last resort: "We are asking residents to know their evacuation zone, and if they aren't in an evacuation zone, it may be safer to stay at home and prepare accordingly. Better yet, please reach out to family and friends now to develop a plan to stay somewhere safe if you need to evacuate."
The county recommends these three steps be followed to make sure you and your family are prepared this hurricane season:
Know Your Zone. Familiarize yourself with evacuation zones and routes. In 2018, Emergency Management released a "Know Your Zone" website for residents to look up their evacuation zone. You can look up your address to see if your home is in evacuation zone A, B, C, D, E or none as well as view the impacts of storm surge in your neighborhood. Knowing your evacuation zone is one of the most important hurricane preparation steps you can take. It is very important that you look up your evacuation zone each year to find out if and when you should evacuate, even if you have looked it up in the past, as zones can change. Most importantly, don't rely on previous storm experience.
Know Your Home. Is your home prepared for a hurricane? With COVID-19, your safest place may be at home instead of a shelter. Pack an emergency supply kit. It should contain three days of clothes, nonperishable food, pet food, water and a battery operated radio and flashlight with extra batteries. Also include a first-aid kit with items such as gloves, adhesive bandages and prescription medications. Find a printable disaster shopping list here. Please remember "the first 72 is on you."  Citizens should be equipped to provide for themselves, their families and their pets for at least three days following a major hurricane. During the 2020 Florida Disaster Preparedness Sales Tax Holiday May 29 – June 4, stock up on qualifying disaster preparedness supplies exempt from tax. For more information and a list of qualifying items, visit floridarevenue.com/disasterprep.
Know Your Plan. Plan how you will assemble your family and loved ones, and anticipate where you will go for different situations. Get together with your family and agree on the best ways to contact one another in an emergency. Inform out-of-town family and friends of your emergency plans and stay in contact. Plan your evacuation route and destination before an evacuation order is issued. Anticipate where you and your family will go for different situations. Be sure to make preparations for pets and family members who made need special accommodations, such as a wheelchair ramp, oxygen tank or specific medications. More information on planning an evacuation for a person with disabilities or special needs is available here.

Stay Informed. Know where to go for trusted sources of information during a hurricane event. Sign up for alerts from your local emergency management office so notifications, including evacuation orders, go directly to your phone and email. Monitor local news for hurricane watches and warnings in your area and follow directions of local officials. Make sure you have a battery-operated or hand-crank radio available should the power go out. Review and sign up for the different types of information/notifications available directly from Escambia County.
       Additional online safety resources:
More information on what to do before, during and after a storm is available online at BeReadyEscambia.com.
---
Update on Gulf Power Work Downtown
Beginning on Sunday May 3, the Gulf Power Network upgrade project shifted back to working overnight Sunday thru Wednesday from 11 p.m. to 9 a.m. on Palafox St. between Intendencia St. and Government St.
Work on Garden Street between Baylen St & Palafox started May 11, with work being performed in the sidewalk and taking place during daylight hours. This work continues to see minimal impact to vehicle traffic.
Work at the intersection of Garden St. & Palafox St. is scheduled to start the week of June 14, and last 3 weeks. This work will take place Sunday thru Wednesday during the overnight hours between 11 p.m. to 9 a.m. and will require road closures to Palafox St. at the intersection during the overnight hours only.