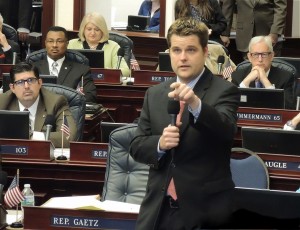 Rep. Matt Gaetz (R-Fort Walton Beach) has built a huge war chest for the Senate District 1 campaign over the last two years. His father, Don Gaetz, terms out of the Florida Senate next year.
Gaetz has raised $446,000 for his bid.
Bay County Commissioner George Gainer took away that advantage with a $500,000 personal check to his own campaign. He made the loan to his campaign on Sept. 8, the same day he filed for the seat.
Tallahassee political insiders believe that the race in one of the most conservative districts in the state is Gaetz's to lose, but Gainer could make it interesting.