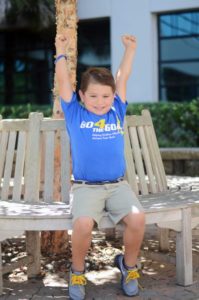 Press release: Go4theGoal Pediatric Cancer Foundation is thrilled to partner with Nemours' Children's Clinic, Pensacola this September during Pediatric Cancer Awareness Month to raise awareness and funds for local kids battling cancer.
The face of this campaign in Pensacola is 5-year old Cooper, a local cancer survivor. Cooper was diagnosed with Acute Lymphoblastic Leukemia (ALL) when he was only 19-months-old. For three years, Cooper had to endure chemotherapy and blood and platelet transfusions. For two months during treatment, Cooper stopped walking and couldn't even stand due to the pain and had to learn how to walk again.
Cooper finally finished his last treatment in September 2014 and just started kindergarten this year. While he still has to go back to Nemours for monthly blood draws, his family and caregivers are grateful that he hasn't experienced the developmental delays that frequently come with chemotherapy treatments in children as young as Cooper.
"In the blink of an eye, everything changed. My 19-month old was strapped to a gurney," said Cooper's mother, Christy. "It's not just about my baby. It's a horrible disease. Cancer is horrible for anyone, but to see children suffer, it just breaks my heart. That's why I'm so passionate about childhood cancer research."
"Watching a child battling cancer is difficult in and of itself, but with children the treatments can often be just as devastating, especially in the very young," said Beth Stefanacci, Go4theGoal's Executive Director. "After going through so much, Cooper can finally enjoy just being a kid. We are thankful to Cooper and his parents for using his story as an inspiration for others and helping to shed light on this campaign to help the kids that are still going through treatment."
Not only will teams and athletes be invited to Lace Up 4 Pediatric Cancer®, but schools and businesses are also being invited to participate in Go4theGoal's 5th Annual National Pediatric Cancer Awareness Day on Friday, September 25th. Proceeds from the sale of the laces and 100% of any donations will go towards supporting patients and families battling cancer at Nemours Children's Clinic, Pensacola. To donate to this cause or to start your own fundraising page, go to donate.go4thegoal.org/NemoursPensacola.
About Go4theGoal Foundation
Go4theGoal Foundation is a 501(c)(3) non-profit organization founded in 2006 by Dr. Richard and Beth Stefanacci, soon after their oldest child was diagnosed with Ewing's Sarcoma, a rare form of bone cancer. In 2011 Go4theGoal launched 2 national campaigns, National Pediatric Cancer Awareness Day and Lace Up 4 Pediatric Cancer®. These campaigns give schools, businesses, and sports teams an opportunity to raise awareness and much needed support for kids battling cancer. Go4theGoal provides children undergoing cancer treatment and their families with financial assistance, funds hospital-based programs, grants special wishes, and since 2007, has funded over $1,000,000.00 in research. For the past 3 consecutive years Go4theGoal has earned the honor of "Top Rated Non-Profit" by Great Nonprofits. Go4theGoal.org
About Nemours
Nemours is an internationally recognized children's health system that owns and operates the Nemours/Alfred I. duPont Hospital for Children in Wilmington, Del., and Nemours Children's Hospital in Orlando, along with major pediatric specialty clinics in Delaware, Florida, Pennsylvania and New Jersey.
Established as The Nemours Foundation through the legacy and philanthropy of Alfred I. duPont, Nemours offers pediatric clinical care, research, education, advocacy and prevention programs to all families in the communities it serves.