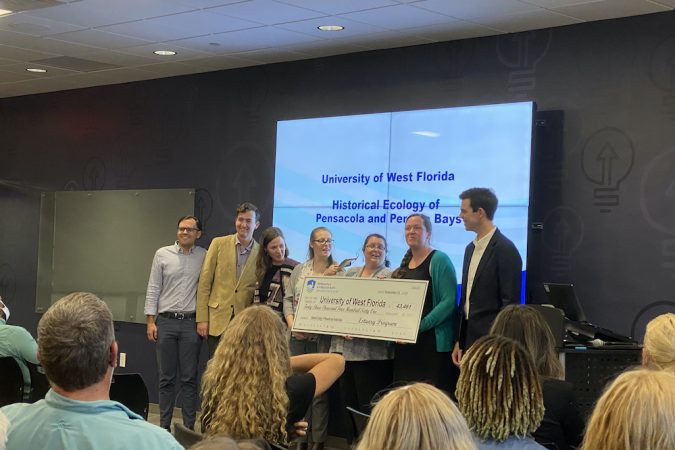 Estuary Program Awards Second-Year Funding
by Jeremy Morrison
The Pensacola and Perdido Bays Estuary Program rolled out its second year of grant funding Thursday evening, awarding more than $200,000 to projects focused on the environmental health of local waterways.
The grants were announced during an event in downtown Pensacola at the Studer Community Institute, featuring appetizers of raw oysters — a shellfish particularly adept at acting as a filter in local estuaries — from Emerald Coast Oyster Company.
A total of seven projects were awarded funding for this second round of grants, with an eighth grantee to be announced by the organization next week after further deliberation; that final award winner will bring the total awarded amount to $250,000. Projects must be completed by the end of May 2022. To be considered for grant funding by PPBEP — with awards ranging from $10,000 to $50,000 — projects must help restore or preserve local estuaries or serve to connect, inform and educate the community about the local estuary environment.
This year, the largest grant recipient is the EscaRosa OysterCorps, a project put forth by the organization Franklin's Promise Coalition, Conservation Corps of the Forgotten and Emerald Coasts. The project was awarded $49,999 and is an expansion of an existing project started by Santa Rosa County that includes collecting oyster shells throughout the region and using those shells for shoreline restoration efforts to improve water quality.
Next up, the Institute for Human and Machine Cognition received $49,830 for its Citizen Science Water Quality and Habitat Monitoring Network: Community Deployment and Network Sustainability project. This project implements work begun last year that invites community members to act as citizen scientists and monitor the water quality and general health of Bayou Texar and the Pensacola Bay watershed. This project is also a continuation of a project; this one began and was funded during the initial round of grants from the estuary program.
The Town of Century received $45,210 for its Fischer Landing Master Plan Study. Focused on the 5-acre park in Century on the Escambia River, this project involves upgrading a master plan and installing education signage concerning watersheds, floodplains, natural habitats and sedimentation.
The University of West Florida was awarded $43,461 for a project entitled Historical Ecology of Pensacola and Perdido Bays: Using the Past to Protect the Future of Our Bays. This project examines the interaction between society and the environment and the consequences of that interwoven relationship.
Receiving a significantly smaller sum, the Santa Rosa County Watershed Awareness Signage and Stormwater Drain Marking Project, a project put forth by Escambia County Natural Resources and aimed at replacing signage initially installed in 2008, was awarded $16,573. The Pensacola MESS Hall was awarded $11,627 for an estuary exhibit project designed to act as a hands-on discovery for visitors to the exploratory center to educate them about issues surrounding the local watershed. And, finally, the Perdido Key Coastal Demonstration Garden, also a project from Escambia County Natural Resources, was awarded $10,450 to install a garden area near the Perdido Key Community Center.
— For more information about the PPBEP's work, check out the next issue of Inweekly.