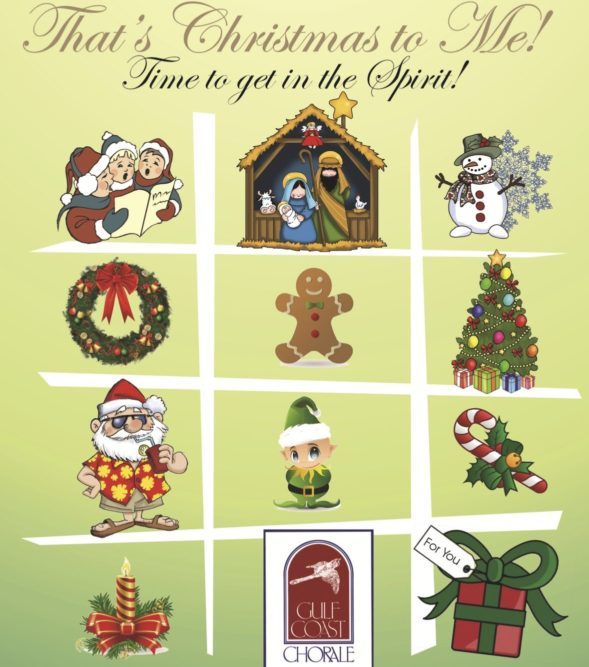 Pensacola, Fla.: On December 2nd you can get your Christmas spirit in high gear at the Gulf Coast Chorale's performance of 'That's Christmas to Me.' Enjoy an evening of music from your favorite Christmas carols and popular holiday tunes to way out hilarious seasonal hits. The show starts at 7:30 PM at Cokesbury Methodist Church , 5725 N. Ninth Avenue, Pensacola, FL just across from Pensacola State College. Admission is $10 for adults and $5.00 for children and students.
It's a night of music, comedy and lots of surprises guaranteed to give you a 'feel good' experience and keep a smile on your face. . Artistic Director, Brenda Smith is quoted as saying, "What I enjoy the most about the Gulf Coast Chorale, and frankly what they do the very best, is consistently deliver a superior musical experience that is filled with joy, laughter and emotion which never fails to entertain."
Started in 1979, the Gulf Coast Chorale has grown from traditional 'choir' concerts to a choral group with a musical theatre twist. Its members share a love of singing and seek to share that love through their performances and by helping young talented singers develop their musical talents through scholarships for choral opportunities and voice lessons.
In 2016, The Gulf Coast Chorale is expanding their outreach to the community by sponsoring a Christmas Gift Wrapping Contest at their December 2nd concert. Participants provide a 'beautifully wrapped' Christmas gift for a senior citizen. The audience will vote on their favorite package and prizes will be awarded to the winners. All gifts will be distributed to seniors in the greater Pensacola area. For more information on how to enter visit the Gulf Coast Chorale website www.gulfcoastchorale.org