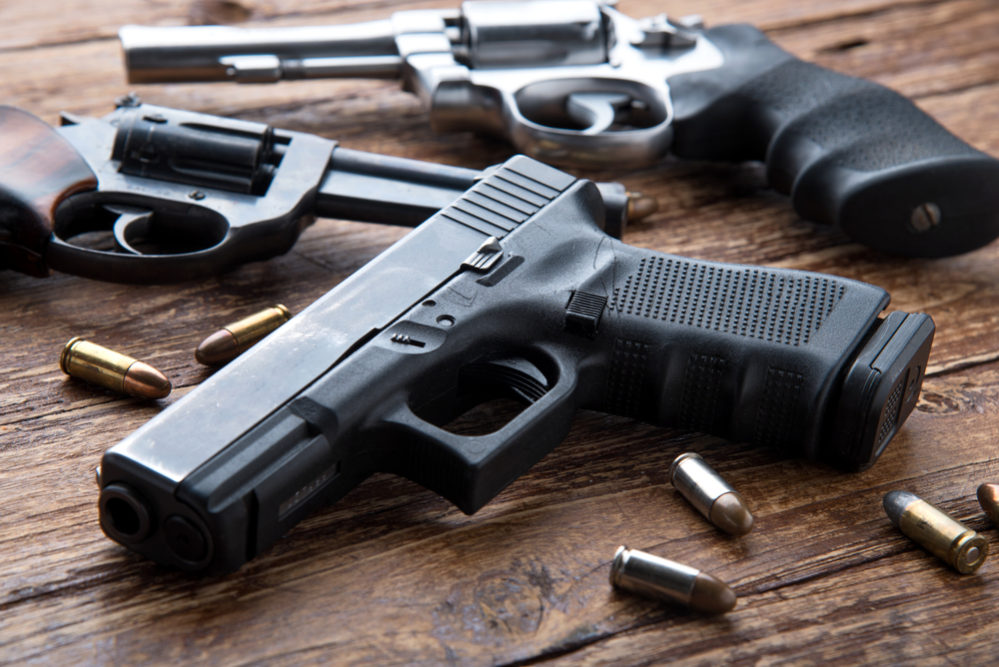 On Friday, Florida Gov. Rick Scott held a news conference announcing a plan to revamp state laws after the Feb. 14 mass shooting at Marjory Stoneman Douglas High School in Parkland.
His plans include:
Violent Threat Restraining Order: "This will allow a court to prohibit a violent or mentally ill person from purchasing or possessing a firearm or any other weapon when either a family member, community welfare expert or law enforcement officer files a sworn request, and presents evidence to the court of a threat of violence involving firearms or other weapons. There would be speedy due process for the accused and any fraudulent or false statements would face criminal penalties."
Strengthen gun purchase and possession restrictions for mentally ill individuals under the Baker Act: "If a court involuntarily commits someone because they are a risk to themselves or others, they would be required to surrender all firearms and not regain their right to purchase or possess a firearm until a court hearing. We are also proposing a minimum 60-day period before individuals can ask a court to restore access to firearms."
Require all individuals purchasing firearms to be 21 or older: "There will be exceptions for active duty and reserve military and spouses, National Guard members, and law enforcement."
Prohibit a person from possessing or purchasing a firearm if they are subject to an injunction for protection against stalking, cyberstalking, dating violence, repeat violence, sexual violence, or domestic violence.
Establish enhanced criminal penalties for threats to schools:"…Like social media threats of shootings or bombings. We will also enhance penalties if any person possesses or purchases a gun after they have been deemed by state law to not have access to a gun."
Ban the purchase or sale of bump stocks.
The second part of the Gov. Scott's plan provides $450 million to keep students safe:
A mandatory law enforcement officer in every public school: "These law enforcement officers must either be sworn sheriff's deputies or police officers and be present during all hours students are on campus… I am proposing at least one law enforcement officer for every 1,000 students. This must be implemented by the start of the 2018 school year."
Provide sheriff's departments the authority to train additional school personnel or reserve law enforcement officers to protect students if requested by the local school board.
Mandatory active shooter training as outlined by the Department of Homeland Security. "All training and code red drills must be completed during the first week of each semester in all public schools. Both faculty and students must participate in active shooter drills and local sheriff's offices must approve and be involved in training."
Increasing funding in the Safe Schools Allocation to address specific school safety needs within each school district. "This includes school hardening measures like metal detectors, bullet-proof glass, steel doors, and upgraded locks. The Florida Department of Education, with FDLE, will also provide minimum school safety and security standards by July 1st to all school districts."
All school safety plans must be submitted to their county sheriff's office by July 1st each year for approval.
School districts must also take all capital outlay funds received from taxpayers and use it for school hardening before it can be spent on any other capital outlay. All safe school allocations must be spent in accordance with the sheriff approved plans.
Require each school district that receives a Safe Schools Allocation to enter into an agreement with the local sheriff's office, the Department of Juvenile Justice, the Department of Children and Families, the Department of Law Enforcement and any community behavioral health provider for the purpose of sharing information.
Establish a new, anonymous K-12 "See Something, Say Something" statewide, dedicated hotline, website and mobile app.
Establish funding to require access to dedicated mental health counselors to provide direct counseling services to students at every school.
Each school will be required to have a threat assessment team including a teacher, a local law enforcement officer, a human resource officer, a DCF employee, a DJJ employee, and the principal to meet monthly to review any potential threats to students and staff at the school.
Require crisis intervention training for all school personnel.
---
The most powerful lobbyist in Tallahassee wasn't happy with Scott's proposals.  Marion Hammer, head of the Florida chapter of the National Rifle Association,  called them "political eyewash" that will only "punish law-abiding gun owners."
"It's gratuitous gun control," said she told the Miami Herald. "We oppose punishing law-abiding gun owners. This had nothing to do with law-abiding gun owners and it punishes law-abiding gun owners for the acts of a criminal and the failure of the FBI, DCF and the SRO who wouldn't do his job."
Hammer wasn't impressed with the recommendation to raise the age for buying all firearms to 21.  She said, "When you're 18 years of age, you can go overseas and die for your country. How can they say we don't trust you to buy a gun, but you can die for your country?"
---
On Sunday, Gov. Rick Scott directed the Florida Department of Law Enforcement to "immediately" investigate the response of law-enforcement authorities to the mass shooting this month that killed 17 people at Marjory Stoneman Douglas High School in Parkland.
The directive came as House Speaker Richard Corcoran, R-Land O' Lakes, sent a letter requesting that Scott suspend Broward County Sheriff Scott Israel. The letter, which was joined by 73 Republican House members, came a day after Rep. Bill Hager, R-Delray Beach, called for Israel's removal.
A Broward County deputy resigned Thursday after it was determined he failed to enter the school while the shooting was ongoing. Other questions have been raised about whether law enforcement adequately responded in the past to warnings about shooter Nikolas Cruz.
Scott's directive to FDLE Commissioner Rick Swearingen did not detail the reasons for the request or how long the investigation could take.
During a television appearance Sunday, Israel pushed back against Hager's removal request, which came in a letter to Scott.
"It was a shameful letter. It was politically motivated," Israel told CNN's Jack Tapper. "I never met that man (Hager). He doesn't know anything about me. And the letter was full of misinformation."
In the letter, Hager, who is chairman of the House Justice Appropriations Subcommittee, called for Scott to remove Israel for "neglect of duty and incompetence." The letter Sunday from Corcoran used similar descriptions.
"Sheriff Israel's fundamental duty is to keep the peace and protect the citizens of Broward County," said Corcoran's letter, posted on Twitter. "He has the power and responsibility to appoint highly-qualified deputies and to ensure they receive state-of-the-art training. Sheriff Israel failed to maintain a culture of alertness, vigilance and thoroughness amongst his deputies."
Along with the highly publicized failure of school-resource officer Scot Peterson to enter the building during the shooting, Hager and Corcoran wrote that Israel's agency had received numerous calls previously about threats posed by Cruz, a former Marjory Stoneman Douglas student charged with 17 counts of murder in the shooting spree.
In his letter, Hager also said other agencies, including the Florida Department of Children and Families and the FBI, did not properly follow up on signals that Cruz could be a threat.
"Sadly, he (Israel) was not the only one that ignored it," Hager wrote. "DCF, Broward County Schools, the FBI and the BSO (Broward Sheriff's Office) all had the pieces to put this puzzle together but failed to communicate. While you do not have authority to remove anyone at the FBI, you do have the authority to remove Sheriff Israel, and I encourage you do to so immediately."
Scott has called for FBI Director Christopher Wray to resign over the federal agency's acknowledged failure to follow protocol on a tip regarding the shooter. He has not made discussed changes in leadership at the Department of Children and Families, which deemed Cruz, who admitted cutting himself and planning to purchase a gun on Snapchat posts, a "low" threat to harm himself or others in late 2016
Hager blamed Israel for failing to coordinate with the Department of Children and Families and has requested that state money intended for the Broward Sheriff's Office be redirected to the Florida Department of Law Enforcement to start a pilot program in the county to better assess risk.
On Saturday, Israel sent a letter to Scott, disputing information from Hager as "riddled with factual errors, unsupported gossip and falsehoods."
Israel wrote that Peterson was the only officer on campus at the time of the attack and that despite assertions by Hager and others, the sheriff's office didn't make 39 visits to Cruz's home.
Israel agreed with Hager that the sheriff's office received 23 calls regarding Cruz's home but contended most were "routine" parenting issues and five involved the shooter's brother.
Israel noted two encounters involving Cruz remain under investigation. One, for example, involved the school resource officer referring Cruz to the Department of Children and Families, which closed the case a couple of months later. He also touted the work of law-enforcement agencies, including police from Coral Springs, Sunrise and the federal Bureau of Alcohol, Tobacco, Firearms and Explosives.
"I am very proud of the incredible work that so many from BSO and other agencies (including CSPD, FDLE, Sunrise, FBI, ATF and others) performed on February 14," Israel wrote. "And I am equally appalled that Rep. Hager felt the need to engage in disingenuous political grandstanding, perhaps in the hope he will garner some headlines, at the expense of the truth."
–source: Jim Turner of The News Service of Florida