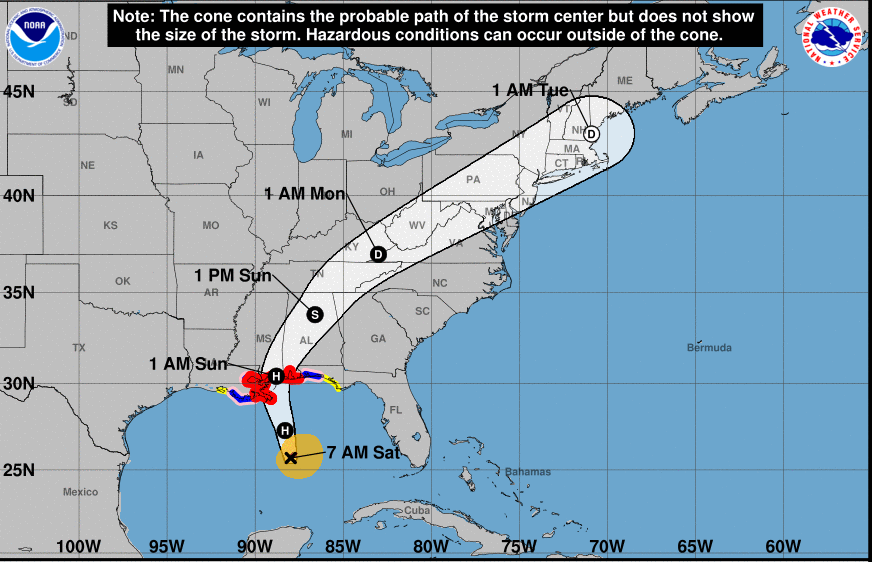 Hurricane Nate Update #5
Current Situation
Tropical Storm Nate has strengthened to a Category 1 Hurricane.
Escambia is under a Hurricane Watch, Tropical Storm Warning, Flash Flood Warning and Storm Surge Warning.
Evacuations are ordered for Zones A and B. Remember, run from water, hide from wind.
Beachgoers should heed the double red flag warnings and stay out of the water as deadly rip currents and rough surf conditions are present on Pensacola Beach. No swimming or wading is allowed in the Gulf of Mexico in red flag conditions.
The Citizen Information Line is open 24 hours a day until further notice. Residents with questions may call 850-471-6600.
Escambia County Emergency Operations Center is at a level 1 activation, or full staffing, until further notice.
The Escambia County Commission enacted a local state of emergency at their Oct. 5 regularly scheduled board meeting. Declaring a local state of emergency allows the county to make formal requests to the state and FEMA for assistance if needed.
Evacuations
Evacuations are ordered in Escambia County for Zones A and B beginning at 6 a.m. Saturday, Oct. 7. If you live in a mobile home or have special needs, you should consider evacuation no matter the zone in which you live.
Zone A and B include Pensacola Beach, Perdido Key and low lying coastal areas.
In Escambia County, we do not use the terms "voluntary" or "mandatory" with regard to evacuations. When evacuation orders are given, residents and visitors are expected to comply as it is a government order.
If you plan to travel out of the area and can leave at this point, do so now to avoid traffic jams.
If you are evacuating locally, leave for your designated safe location by nightfall tonight, Saturday, Oct. 7.
 Keep in mind it is always easier to go tens of miles, not hundreds. Consider going to a friend or relative's home, a hotel, or as a last resort, a public shelter within the county. Public shelters can be crowded, noisy and uncomfortable, but they are safe.
To look up your address online, click here: http://bit.ly/2vGzR1R. You can search by address or parcel number and then look for the "Emergency Management Report." The address function is self-populating, so type slowly and then choose the address from the drop down list.
Evacuation routes can be viewed at http://bit.ly/2eJAKzm.
For a map of evacuation routes and zones, click here.
You must understand that when sustained wind speeds reach 39 mph or storm surge covers roadways, law enforcement, emergency medical services and fire departments may not be able to come to your aid.
Shelters 
The following shelters opened at 8 a.m., Saturday, Oct. 7:
Pet Friendly Shelter
– Molino Park Elementary School, 899 Highway 97
Please bring the pet's food, water, medications, crate or leash and proof of vaccinations. You must stay at the shelter with your pet.
Special Needs Shelter Only 
– West Florida High School Buildings 9, 25 & 26 2400 Longleaf Drive
General Population Shelters
– Jim Bailey Middle School, 4110 Bauer Road
– Pensacola Bay Center, 201 E. Gregory St.
– Marie Young/Wedgewood Community Center, 6405 Wagner Road
Residents needing transportation to a shelter should call ECAT at 850-595-3228.
If you go to a shelter, you will need to take the following items to support you and your family:
A change of clothing, rain gear and sturdy shoes
Toiletries and personal items
Blankets or sleeping bags and pillows
ID and any important papers
Games, toys or books for children
Books for adults
Special items for infants or elderly family  members
Any special dietary needs & nonperishable foods for snacks
Battery-operated radio, flashlights and plenty of spare batteries
Prescription medications or any over-the-counter medications you normally take

Weather Update from National Weather Service/National Hurricane Center
Tropical Storm Nate has strengthened to a Category 1 Hurricane. Category 1 Hurricane Nate continues to strengthen as it heads north-northwest toward the central Gulf of Mexico. It is forecast to make landfall along the northern Gulf Coast overnight Saturday into early Sunday morning. Nate will approach the northern Gulf coast Saturday, and then move near or over the northern Gulf coast Saturday night or Sunday.
Southeasterly gale force winds should start affecting the area on Saturday, Oct. 7 at 9 p.m. The highest wind speeds from Hurricane Nate should occur near 11 p.m. when top sustained winds, from the Southeast, could reach 44 MPH with gusts near 54 MPH. Winds should decrease below gale force 5 hours later.
Sustained winds will fall below gale force after 4 a.m. and generally be from the North during this period of decreasing winds. Expect gusts above gale force level for several more hours thereafter.
Some minor residential wind damage may occur from Hurricane Nate in Pensacola. The total rainfall for the Pensacola area over the next five days is forecast to be 3.7 inches. This can vary significantly as tropical storm and hurricane rainfall is very difficult to predict.
The threat of tornadoes will exist along the center of the storm and east of the center Saturday through midday Sunday. Long period swells reaching area beaches will result in a high rip current risk and increasing surf heights.
Storm Preparation Actions you can Take now
Stay tuned to local news and get your weather radio ready.
Complete any final preparations.
Turn the refrigerator thermostat to its coldest setting and keep the doors closed.
If you plan to travel out of the area and can leave at this point, do so now to avoid traffic jams.
If you are evacuating locally, leave for your designated safe location by sunset tonight, Saturday, Oct. 7.
If you are not required to evacuate, prepare a safe room in your home and stay off the roads to enable evacuation traffic to clear the area.
Notify your designated out-of-town contact and let them know where you are sheltering.
Avoid using the phone, except for emergencies.

Traffic Conditions & Bridge Closures 
Check for Escambia County road closures 24/7 at www.myescambia.com/roadissuesmap.
City of Pensacola road closures can be viewed here.
Law enforcement will monitor and close bridges for safety at sustained (not gusts) wind speeds of 39 MPH or greater for each specific bridge location. At this time, this is forecast to take place as early as nightfall .
The toll at the Bob Sikes Bridge are suspended at until further notice.
For the latest closures and updates, travelers can access Florida's 511 service from cell phones, landlines and online at www.FL511.com. For more information, follow FDOT on Twitter @myfdot_nwfl, or on Facebook atwww.facebook.com/MyFDOTNWFL.
Sand Bags
Escambia County is not providing sand bags for this event as sand bags are not an effective tool for storm surge. Flooding is not expected for this storm.
If you would like to use sand bags, you can purchase sand and sand bags at most local hardware or home improvement stores, typically for a pretty low cost.

Office Closures 
At this time all county offices are expected to be open on Monday, Oct. 6.
West Florida Public Libraries will close all locations on Sunday, Oct. 8.
City of Pensacola offices anticipate being open for business on Monday morning. If the county decides to close offices, we will follow suit and that information will be promulgated in the EOC updates, by emails to you, in the city's social media and on the employee call-in line (850-435-1703).
There are no planned judicial closures at this time.
All Escambia County Tax Collector's offices are closed Monday Oct. 9, for a planned Professional Development Day.

Schools, Colleges & Universities 
Pensacola State College will close at 5 p.m., Saturday, Oct. 7, and remain closed through Sunday, Oct. 8. All activities and classes, whether on campus or online, are canceled during this time. However, Pensacola State College will conduct the previously scheduled SAT testing on Saturday, Oct. 7. The college will resume normal operations, activities and class schedules on Monday, Oct. 9. PSC will continue to monitor the weather and send additional notifications through PSC Alert, PSC social media, PSC website and local media, if needed.
Monday, Oct. 9 is a scheduled professional development day for Escambia County School District teachers and staff, students do not attend school on this date. Staff and teachers should plan to attend scheduled professional development training sessions on Monday, as scheduled, unless they are informed otherwise.
All UWF locations will be closed Saturday, Oct. 7 at noon through Monday, Oct. 9. This includes all classes, events, campus activities and online courses. Normal university operations, classes, events and campus activities will resume Tuesday, Oct. 10.

Pensacola International Airport
Pensacola International Airport will close and cease ALL operations at 8 p.m. Saturday, Oct. 7 and will remain closed throughout Sunday, Oct. 8. Weather permitting, normal operations are expected to resume beginning Monday, Oct. 9.
Passengers with impacted scheduled travel to/from Pensacola International Airport should contact their airline for specific flight information and rebooking/cancellation details.
Individuals attempting to access the parking garage Saturday, Oct. 7 must present a valid airline ticket with the same-day scheduled departure. Access to the parking garage will close at 8 p.m. Saturday, Oct. 7 and will not reopen until Monday, Oct. 9.
Mass Transit
Due to weather conditions, Route 61 to Pensacola Beach will be suspended at noon today. Route 64 Beach Jumper will not run service today. All other ECAT Routes will run regular schedules, unless weather conditions worsen.  For evacuation transportation to shelters, please contact ECAT at 850-595-3228 or the Citizen Information Line at 850-417-6600.
University of West Florida has suspended UWF Trolley Service on Monday, Oct. 9  due to potential weather conditions from Hurricane Nate.
For additional ECAT route and schedule information, please contact ECAT at 850-595-3228 or visit our website at www.goecat.com
Gulf Islands National Seashore
Gulf Islands National Seashore officials have closed all of areas of the national seashore including all Mississippi Islands, the Fort Pickens, Fort Barrancas, Naval Live Oaks, Santa Rosa, Okaloosa, and the Perdido Key Areas.
Utilities

ECUA does not have plans to turn off water services for any of the barrier islands.
Escambia River Electric Cooperative Inc. reminds the public that, in the event of outages, crews will begin making system repairs as soon as safely possible. Members are also encouraged to be mindful of their surroundings and to take safety precautions in the storm's aftermath.

Perdido Landfill

The Perdido Landfill will remain open for normal business hours Saturday, Oct. 7 and Monday, Oct. 9.

Small Businesses
Businesses are encouraged to register ahead of the storm with the Florida Virtual Business Emergency Operations Center at flvbeoc.org. Registration is free and the site provides great resources for businesses before, during and after a storm. You'll have access to a Business Disaster Toolkit, road closure info, resource listings, Business Damage Assessment applications, and information on aid such as Small Business Emergency Bridge Loans and SBA Disaster Loans.
Parks/Youth Sports
Roger Scott Tennis Center and Osceola Golf Course will be closed Sunday.
City of Pensacola community resource centers will close at the end of business Saturday (if open) and will remain closed through Sunday into Monday morning. A decision will be made Monday am as to open or remain closed.
Youth football and cheerleading games are still scheduled to play their Saturday schedule at this time. Please check the local youth football governing body,Northwest Florida Youth Sports Alliance, Facebook page for any changes.
Youth recreation soccer games scheduled at the Southwest Sports Complex on Bauer Road for Saturday have been canceled. Please check the league website atwww.perdidobayfc.com or your league's Facebook page for updates..
All regional and neighborhood parks are expected to remain open at this time.
The Pensacola Bay Fishing Bridge has closed as of 8:30 a.m. until further notice.
Related Files