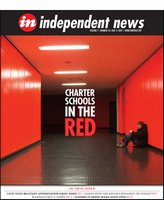 Check out this week's issue
Cover Story: Charter Schools In The Red
Orlando Sentinel published a four-day series last month, examining the nearly 350 charter schools in Florida and its 98,000 students, which would make them the eighth largest school district in the state following Pinellas County.
The investigative stories on the schools, which receive about $560 million annually, revealed a number of troubling findings:
• About half of charter schools in the state in 2005 experienced operating deficits or had business relationships in which charter operators made money from rents, leases, loans and contracts with the schools.
• Charters earned about a quarter of the failing grades handed out by the state last year, even though they taught 3 percent of Florida students. Forty-three percent went ungraded, however, double the percentage among regular public schools.
An Independent News investigation of Escambia County charter schools' audits for the latest year available—the 2005-2006 fiscal year—and performance on the state's Florida Comprehensive Assessment Test also revealed similar problems locally. Read: Charter Schools In The Red
OUTTAKES
Why hold a Military Appreciation Month? It's a tangible and visible way we can express our appreciation for the sacrifices they make not only in defense of this nation, but also for the quality of life we enjoy.
We all have read about the $2 billion impact the military has on the greater Pensacola area, but the military's contributions to this community are so much more than dollars. Last year, military volunteers from NAS Pensacola contributed more than 4,300 volunteer hours to our public and private schools. Military volunteers provided more than 1,200 volunteer hours per month to local service organizations. They helped us build Habitat for Humanity homes and clean up neighborhoods. Read: Say Thank you
WINNERS & LOSERS
The accounting and statistical department of the Winners & Loser division of the Independent News media and entertainment (you can't forget Hawkshaw Music Fest) has figured out what the average ECUA residential customer has been able to purchase by saving the rate increase over the past 67 months thanks to the board's inaction. Read:Winners & Losers
ENTERTAINMENT
MUSIC: Alan Sculley interviews Martina McBride (Martina); M.E. Seeley writes on Saliva who is playing at Capt n Fun's (Saliva Not Cursing Success); Two new music features: May Playlist and Chart Toppers; plus Hawkshaw Update and Live Events.
FILM: Bob Grimm reviews Spider-man 3 (Tangled Web); Three new film features:Summer Movie Previews ,DVD Releases 5.01 , Movie Trailers .
Plus everybody's favorites: News of the Weird,The Advice Goddess ,The Last Word-Jeni Bailey.