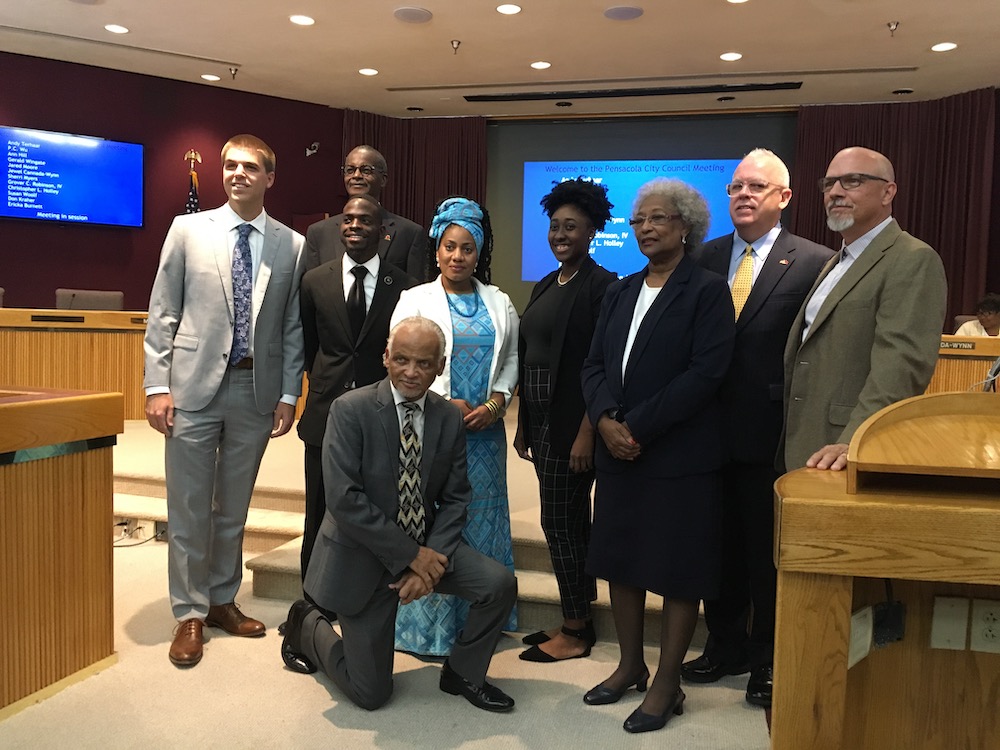 By Jeremy Morrison
PENSACOLA CITY HALL–The Pensacola City Council selected former councilman John Jerralds Wednesday night to replace District 5 representative Gerald Wingate, who passed away in August.
"It feels good to be home," Jerralds said, taking his seat on the council.
Jerralds, a retired educator, previously served on the city council from 1999 to 2012, when he lost the seat to Wingate. Council members appeared to base their appointment of Jerralds on his past experience, contending that he had the necessary experience and would not have as steep of a learning curve as the other candidates vying for the seat.
"Being on the council is not easy," said Councilwoman Sherri Myers. "There's a lot to this, there's a lot you have to learn."
Jerralds, too, relied on his experience when pitching himself to the council, describing his re-entrance to council's chambers as "kind of like deja vu."
"Please consider my experience," he said, "because you wouldn't have to start over, but I think I could hit the ground running."
The former councilman, who said he would not seek the seat in the 2020 election, was selected from a pool of 10 nominees. That pool shrunk to 9 prior to council's selection, following the the withdrawal of Ron Helms, who said he didn't want the seat because he was seeking it in 2020 and had decided to heed Mayor Grover Robinson's suggestion that candidates seeking the seat in the next election not be considered for the immediate appointment.
Among the remaining nine nominees, there were two that received multiple referrals from members of the public who spoke during Wednesday's special council meeting. Both Teniade Broughton and Haley Morrissette saw multiple supporters speak on their behalf; Broughton, in fact, had two members of the mayor's transition team — Christian Wagley and Drew Buchanan — back her nomination.
Broughton survived the first round of council's voting, along with Jerralds, Betty Allen and Taran Black. In that initial round, Jerralds received three votes, with the others receiving one vote each. In the next round, Jerralds garnered the fourth vote he needed to clinch the seat, with Allen and Broughton maintaining their single votes.
Like the rest of the nominees, Jerralds listed off a number of District 5 priorities he intended to focus on, such as employment and neighborhood issues. After securing the seat, the new councilman said he was looking forward to serving both his district and the city as a whole
"I'm interested not only in District 5, but also the concerns of the city of Pensacola," Jerralds said following the meeting.
Jerralds will begin his tenure Monday, when council meets for its agenda work session.