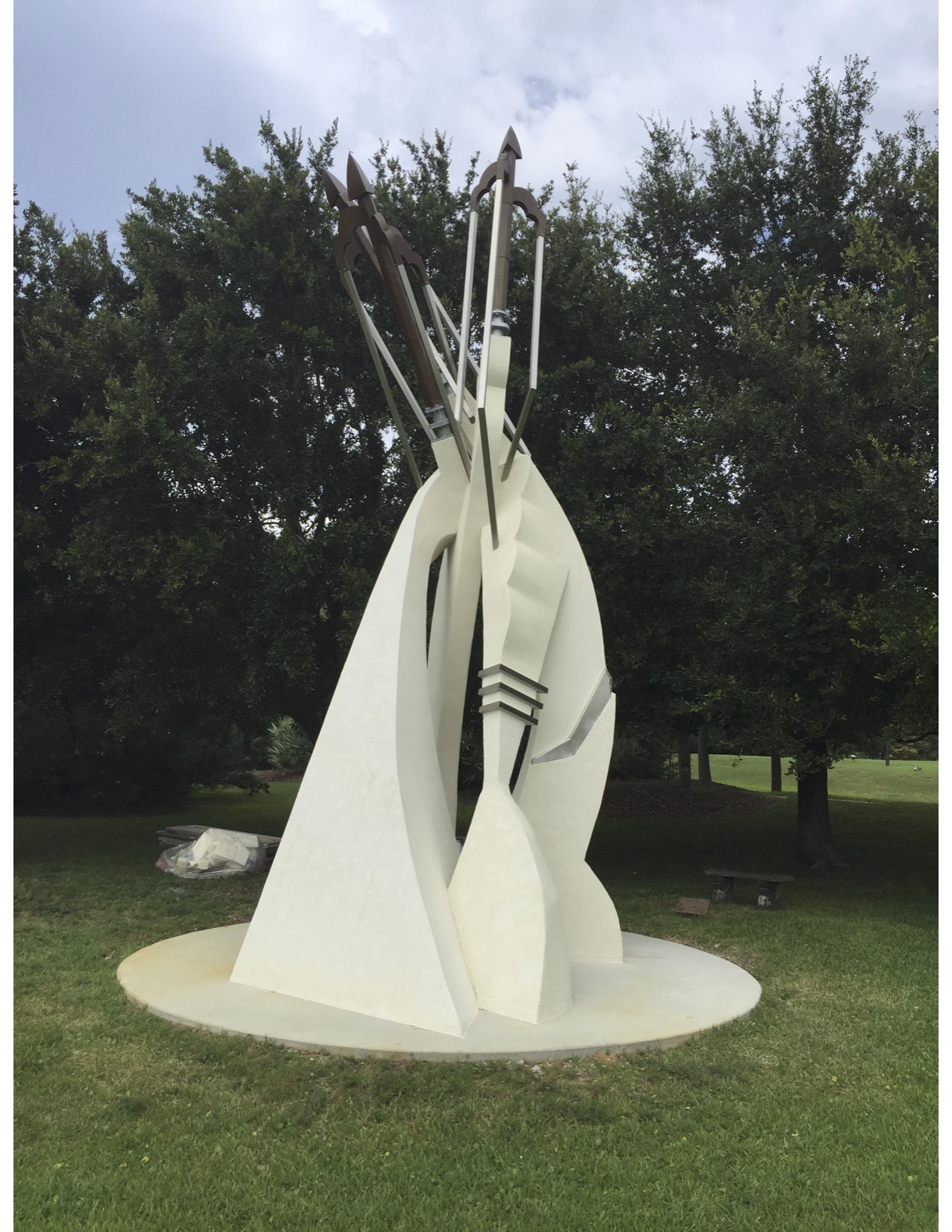 Fred Levin yesterday announced the unveiling of a distinctive sculpture, commissioned for the City of Gulf Breeze, to honor his late loved ones and the community they enjoyed. The abstract bronze, stainless steel, and stucco sculpture is twenty-five feet tall and was created by local artist, Michael Boles, a sculptor Mr. Levin has previously commissioned to create original artworks.
"It's an abstract sculpture that takes into account the beauty of the region," said Boles. "There's white stucco at the bottom which suggests our local white sand, beaches and the top portion, made of bronze and stainless steel, suggests the upward movement of the area. When Gulf Breeze was built fifty years ago, it was a small town. Now it has grown so much and is a destination in and of itself."
Levin is dedicating the sculpture to his late wife, Marilyn Levin, as well as his longtime friend and business partner, Fred Vigodsky, who called Gulf Breeze home, when he passed last December. Fred and Marilyn Levin had also resided in the city, before moving back to Pensacola. A plaque commemorating them will be revealed with the sculpture during the dedication ceremony.
"We live in a beautiful place and my hope is that this sculpture will add to that beauty and spark peoples' imagination," said Levin. "Michael Boles is an amazing artist and I am proud to dedicate this sculpture in honor of Marilyn and Fred, in the City of Gulf Breeze, where residents and visitors can also enjoy it."
The sculpture is now installed at its new home, in the greenspace alongside Pensacola Beach Road, near where it intersects Gulf Breeze Parkway, southwest of the Live Oak Village shopping center. The dedication and ribbon cutting ceremony will be there, Tuesday, June 26 at 6:30 p.m., and will include special guests and comments from local dignitaries. The name of the sculpture will also be revealed at the ceremony.