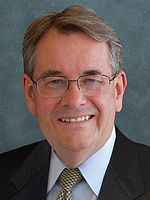 The federal government has made it clear that its Low Income Pool program will end this June. LIP provides Florida $2 billion annually for health care for low income families and the uninsured. Sacred Heart Hospital and Santa Rosa Medical Center depend on the funds for the care they offer those groups.
Gov. Rick Scott and the Florida House ignored the LIP expiration and used the $2 billion to balance their budget proposals. The Florida Senate took a more realistic approach and did not, which has caused them to make cuts to several programs in order to balance the Senate's budget proposal.
We saw this impact the Senate Education Appropriations hearings. The budget panel, chaired by Sen. Don Gaetz, R-Niceville, wants to devote almost $7,123 per student to the main formula used to bankroll public schools. It's a 3 percent increase in funding from the current budget year, but below Scott's desire to put public education funding at $7,176 per student, a historic high.
Gaetz will be on Pensacola Speaks this afternoon. We will discuss health care coverage and the LIP funds @ 5:15 p.m.
Pensacola Speaks airs on News Talk 1370 WCOA Monday-Friday from 5 p.m. to 6 p.m. You can call in and join the discussion – 850-478-3116. For iPhones and iPads, download the WCOA app from iTunes. For Androids, go to Google Play.
We also have podcasts of our interviews on PodOmatic – here. And here is our RSS feed. Download Podomatic app on iTunes or on Google Play. You can now get the podcast through iTunes.