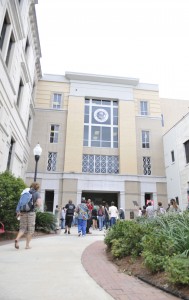 Escambia County's downtown complex will be formally unveiled this week as the Ernie Lee Magaha Governmental Complex. A ceremony will be held Thursday at 3 p.m., prior to the public forum and regular meeting of the Escambia County Commission.
The county commission decided to honor longtime Clerk of Court Magaha back in October. Magaha began his service as the clerk in 1957 and recently lost his reelection bid to opponent Pam Childers during the August primary.
County staff has estimated that costs associated with the renaming will not exceed $5,000. Those costs include the ceremony and a brass plaque, to be displayed in the lobby.