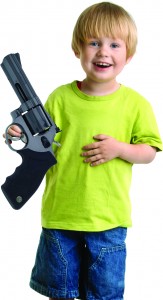 Yesterday, Seattle Police had its first gun back-buy event in 20 years. The response was so massive that the SPD had to turn away people three hours earlier than scheduled when all the gift certificates available had been handed out. The police have already begun planning more.
Participants received a gift card worth up to $100 for each handgun, rifle or shotgun turned in. Assault weapons could be worth twice as much. And additional gift cards were given for high-capacity magazines that come with the guns.
The objective of the buy-back is to reduce gun violence.
Once the guns are collected, police plan to check serial numbers to see if any are stolen. If so, they will not contact the person who turned in the weapon. Instead, they will contact the gun's registered owner and see if that person wants their firearm returned to them or destroyed.
Nearly $120,000 was raised to buy back the weapons and ammunition by the Seattle Police Foundation, nonprofits, the University of Washington Medical Center, private businesses such as Amazon and Seahawks head coach Pete Carroll.