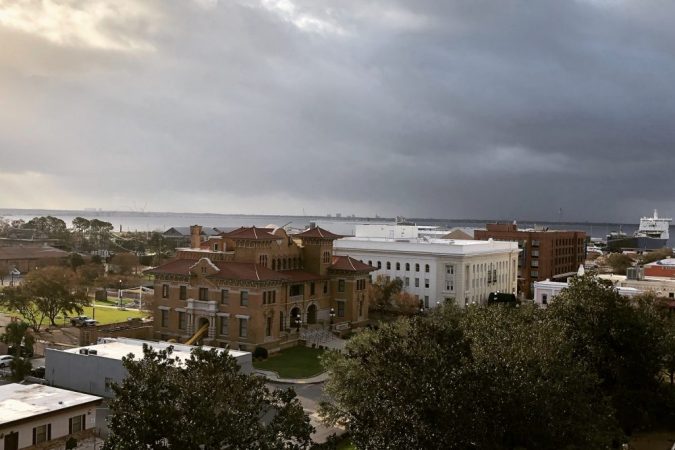 At the Tuesday morning presser, Emergency Manager Eric Gilmore discussed the protective actions Escambia County had taken in anticipation of the possible landfall in the Escambia County.
"Yesterday morning, we went by community partners, and we're starting to prepare our shelters, our evacuations, our evacuation routes," he said. "We're taking this as if we're going to get impacted and going to have a landfall here in Escambia County. We want to scale up as much as we can, to be prepared ahead of the storm and then scale back as needed."
According to the latest data, Hurricane Delta is anticipated to make landfall in Louisiana around Friday night or Saturday morning.
"As we all know, Sally was supposed to hit somewhere in Louisiana as well, so we're taking all precautions," said Gilmore. "We ask that you do the same as well, and I have noticed all throughout town a lot of you are getting gas, getting your generators ready, getting your water and your provisions and I appreciate that."
He recommended that the public take this time to prepare: "It's always best for you to scale up as well and then we can scale back as needed, if we don't get impacted."
The county will update the public throughout the week on its protective measures.
"If we do have to open shelters up, we'll definitely let you know where they are," said Gilmore. "They've been pre-identified. We have our staffing, we're working with the Red Cross, the school district, our community partners, to make sure that we have those things ready to go, as needed. If we need to turn those things on, they will be ready and available for you."
Though Hurricane Delta is a Cat 3 storm and is anticipated to downgrade before it makes landfall, he urged residents to plan this as a major hurricane coming into our area, "that way you're the best prepared."
"Know your Zone, first and foremost," he said. "Second, know your home…see what has potential to fall on your home if we get a strong gusts. Even if we don't get the breadth of the hurricane making landfall in Escambia County, we are still susceptible to tropical storm force winds. So please take note and inventory of what's around your home right now."
He continued, "Lastly, know your plan…Are you going to evacuate? Are you going to leave the area? Are you going to go stay with a friend, relative? Please have your plan ready to go by at the latest tomorrow."
Pensacola Mayor Grover Robinson echoed Gilmore's remarks.
"The city and the county are both preparing for essentially a Category 2 hurricane at this particular time," he said. "We may not get that, but at this particular time, we believe we are preparing for that, and you should prepare for that. One way or the other, we're going to end up most likely on the right side, which means we're going to get significant onshore wind flow and rain."
He brought up the first 72 hours after the storm makes landfall.
"At this point, I would be thinking about that first 72 is on you, and making sure you have enough water and enough resources, just like we dealt with in Sally," said Robinson. "We do want you to make sure you have the provisions and those provisions are certainly non-perishable, because it is likely we could lose power again. But we've been through this once before. We will get through this and we'll come out of this."
Chief Deputy Chip Simmons reminded the public that his agency can't answer all the rescue calls during the storm and in hours after its impact.
"If you're trying to determine whether you should evacuate, keep this in mind," he said. "Not just your own experience, not just where your house lives and the vulnerability that you have in your own home, but also consider the fact that there's going to come a time when someone calls 911 and we just can't respond."