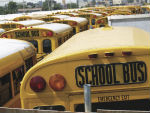 According to WMS parents, the interviews and reports regarding the infamous Becky bus ride don't tell the whole story.
The Becky Bus Ride happened on Thursday, Oct. 8, 2009 when the WMS boys' basketball team played a game at Ransom Middle School. Team members and band members rode the bus together to and from the game. Other than the bus driver, Hannah White, no adults chaperoned the students on the return trip, and the kids got out of hand. One female student was captured on the bus video performing oral sex on several male students. Other students took pictures with their cell phones, according to the reports.
This is what the parents have told me:
When the bus arrived at WMS after 9 p.m., the bus driver wouldn't open the door. Parents could hear her yelling at the students. When she opened the door, she accused four girls of having sex on the bus. The two chaperones did not show up at the school until 30 minutes after the bus arrived. The only school official there was the On-Job-Training student (Max from Tarnished Turnaround). The parents said that he was trying to write everything down and was panicking (Why an 17-year-old high school student was still at the school at 9 p.m. is a whole other story).
A lot of the girls were crying. One parent was reported to have called Department of Children and Families–which, as School Board attorney Donna Waters and School Board member Jeff Bergosh have pointed out, doesn't get involved in child-on-child sex if they are older than 12 years old.
Coach Curtis Farmer told the District Investigator John Dobbs that SRO Bobby Small was at the school when the bus arrived. The parents told the IN that Deputy Small was not there.
Eventually the video proved that only one girl was involved. She would be transferred to Clubbs. The boys only got minor punishments.
The incident didn't get reported by the school on its SESIR. The bus driver and two teachers received no reprimands according to our sources. The girl gets punished everyone else walks away free.