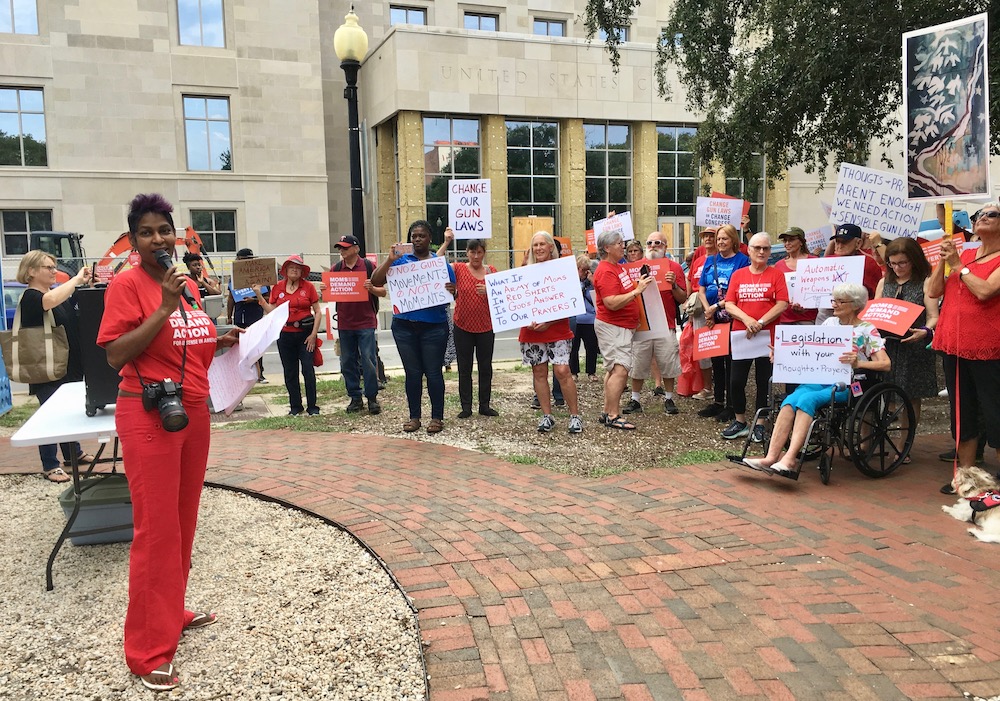 by Jeremy Morrison, Inweekly
Speaking out against gun violence and demanding "responsible" gun legislation, a group of about a hundred people gathered at the intersection of Palafox Place and Garden Street in downtown Pensacola Sunday afternoon.
Organized by local arms of the groups Everytown for Gun Safety and Moms Demand Action, the event served as a call for action as well as a vigil for victims in the recent shootings in El Paso, Texas and Dayton, Ohio.
"Right now momentum is on our side," said Cindy Martin, of Moms Demand Action. "We're not letting up until congress gets some gun sense."
Martin, of Pensacola, is familiar with the shattered lives gun violence can leave in its wake. Her son, Matthew Sheldon Cox, Jr., was shot and died in their front yard in 2012.
"We demand common sense legislation from our lawmakers," Martin said, speaking to those assembled. "We support the Second Amendment, but with their right comes responsibility."
As Martin and others spoke at the rally, people stood beneath a gray sky holding signs reflective of the occasion: 'Blood on Your Hands' and 'I Don't Want to Go to My Students' Funerals' and 'Actually, Guns Do Kill People.'
"We are past due for legislation to make America safe again," said Betsy Adams, another speaker and also someone who has lost a family member to gun violence.
Off to the side, near a table of her books, in which she tells the story of her brother being murdered by a recently released psychiatric patient who was able to get a gun, Adams specified exactly what type of legislation she would like to see enacted.
For starters, she said, guns capable of military-style rapid fire should not be available to the general public.
"They should be only for military and law enforcement," Adams said.
And, also, Moms Demand Action — started one day after the Sandyhook school massacre — does not support arming teachers in an effort to combat school shootings. Florida recently passed legislation allowing for the arming of school employees.
"Teachers are fighting it," Adams said, "they don't want to be armed."
Recently, Adams was in attendance at a Moms Demand Action national conference in Washington D.C., when the group was able to take its message directly to federal lawmakers. She remembered the moment in bittersweet terms — a moment full of more heartbreak, but also one full of momentum.
"We're all together in this big, huge ballroom when we find out the El Paso shooting has occurred," Adams said, recalling how the organization sprang into action. "We rallied people and marched to the capital building that same night."