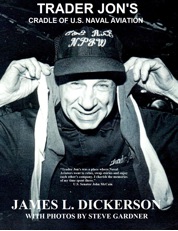 My friend James Dickerson has written a new book, "Trader Jon's: Cradle of U.S. Naval Aviation." It's a history of one the most famous bars in American history—and a tribute to all the U.S. Navy Aviators who passed through its doors. He describes Trader's as "a gritty strip joint in which local women made good money taking off their clothing, it also was the secret location for the initiation of Newbie flyers for the legendary Blue Angels."
For nearly four decades, Trader Jon's was where the men who trained to fly the monster jets of the U.S. Navy let down their hair before going off to fight—and sometimes die—in lonely battles above obscure patches of water and land over Korea, Vietnam, and Bosnia.
It was where America's astronauts contemplated their future as they gazed at the time-worn artifacts of the past.
It was where nearly every major symbol of the American Dream, including John Wayne, Bob Hope, Henry Fonda, and Elizabeth Taylor, found temporary solace. Artifacts lined the walls, pasted floor to ceiling, along with hundreds of framed photographs of the pilots, astronauts, and movies stars who visited the bar—and from the ceiling hung giant model airplanes, their wings tipped in mock flight as they circled within the soft glow of 25-watt passion lights.
When Trader Jon's owner, Martin Weismann, died in 2000, the bar was closed and his memorabilia collection, valued at more than $2 million, was purchased by a Pensacola law firm and donated to the Naval Aviation Museum Foundation, where it will be preserved and maintained in Pensacola. Among those who mourned the bar's passing is Retired Vice Admiral Jack Fetterman, who recalls Weismann as someone who never said anything bad about anyone: "You talk about bonding, and you talk about brotherhood, and you talk about what naval aviation was all about. Trader kind of provided that foundation."
One measure of the Navy's deep regard for Weismann is the singular honor it afforded him by naming a runway after him—TRADR-ONE.
James L. Dickerson, author of "That's Alright, Elvis," "Mojo Triangle: Birthplace of Country, Blues, Jazz, and Rock 'n' Roll," and "Last Dance at the Sudden Death Café," spent many hours in the 1970s, 1980s and 1990s with Trader Jon's owner John Weissmann, along with photographer Steve Gardner, documenting the history of the bar. Gardner is also known as Rambling Steve Gardner, a well-known, Tokyo-based roots music performer.
The book is only available on Kindle through Amazon.com.