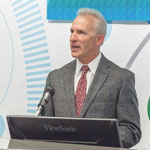 We learned this morning that former City Administrator Eric Olson inactivated the Human Resource Manual and replaced it with the Mayor's Administrative Policies and Procedures, effective May 25. The action has left the city with two HR manuals – one for union members and another for those not covered by collective bargaining agreements.
At the time, Olson was under investigation for complaints filed against him by two employees of the mayor's office. The Mayor's Administrative Policies and Procedures have a different Administrative appeal process than the HR manual. The Chief Human Resources Officer was eliminated from the appeal process. The CHRO may attend a department director's meeting on the appeal, if invited, but no longer renders a written decision on the appeal, as would happen under the HR manual.
Appeal steps were cut from six to three with the last step being the City Administrator, who may or may asked for the CHRO's input. The HR manual listed the employee's rights, the mayor's "manual" does not. Under the HR manual, if any level of management failed to respond with the set time limits, the supervisor forfeited his/her rights to comment and would be subject to disciplinary action. The mayor's "manual" has no such penalties.
Also according to the HR manual, if the problem was a policy matter that was more appropriately resolved bypassing one or more intermediate levels, such could be done with the joint approval of the Chief Human Resources Officer and the Department Director/Administrator. The right was eliminated.
According to the mayor's "manual," the changes in the appeal process were made Jan. 25, 2018. However, the HR manual that's applicable for the unions doesn't have it.
Should a person be allowed to change the rules while under investigation?