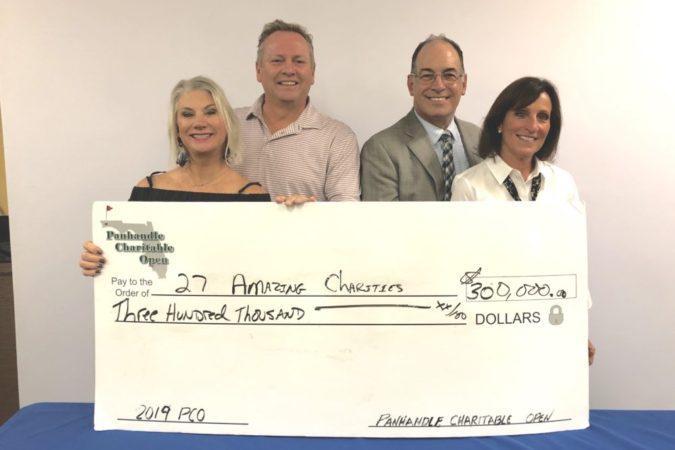 Press Release: After raising almost $1.8 million dollars for local charities, Panhandle Charitable Open founder John Peacock today announced that the organization will close down its operations after eighteen years.
That announcement came at the PCO's event Thursday morning during which the organization delivered more than $300,000 in contributions to over 27 different charities, a record amount for the PCO's 18-year history.
Established after the death of his son John at the age of 17, Peacock said the PCO started as a way to try to make something good out of that terrible tragedy. Since its inception almost two decades ago, the PCO has grown from a small golf tournament to a three-day event spanning two days of golf at two area golf courses and sellout crowds at its fundraising dinner.
"When we started the PCO, we really just wanted a way to channel our loss into some way of helping the community," said Peacock. "Over the years, the community has continued to respond with such generosity to this event, even setting a record this year for the most money raised in our history."
One of the charities benefitting from the PCO's work is the Council on Aging of West Florida. John Clark, executive director of that organization, cited Peacock's work as a catalyst that helped draw matching grant funds to support programs for seniors.
"Since its inception, we have received nearly $300,000 in donations from the Panhandle Charitable Open. These monies have enabled us to provide for many of our unfunded and underfunded initiatives, such as our volunteer activities program and the wheelchair ramp team, as well as draw down additional public resources at a 1:9 match," said Clark.
"We have been truly blessed by John Peacock, Nels Offerdahl and the entire PCO team, and our agency has been able to make a tangible impact in the lives of our most vulnerable and society's most overlooked."
Peacock said that the all-volunteer Board and event committee for the PCO has made it possible to channel 100% of every dollar raised to local charities, but that all events have a life-cycle.
"I'm so grateful to all the volunteers who have worked tirelessly year in and year on this event and all the charities we support, but after almost two decades, I feel we have stretched as far as we can with our volunteers and our community support," he said.
Most recently, the primary charities supported by the Panhandle Charitable Open include the Council on Aging of West Florida, Gulf Coast Kids House, Children's Home Society, Santa Rosa Kids House, and Child Guardians, Inc. Dozens of other local organizations have also received contributions from the organization over the years.
Stacey Kostevicki, executive director of Gulf Coast Kids House, praised the work of the Panhandle Charitable Open and its team.
"We are so honored to partner with Panhandle Charitable Open every year. To date, they've raised over $250,000 for Gulf Coast Kid's House. Over 90 percent of our revenue goes directly to programs, and having a community partner like PCO allows us to do what we do best – help children and families recover from the abuse they've suffered."
Peacock noted that just because the Panhandle Charitable Open was ending, he hoped the community would continue supporting worthy causes that helped those in need.
"It is a bittersweet feeling to close the door on this chapter, but my wife Jerre and I are grateful to all the people who helped do so much good, for so many organizations, over the past several years. We look forward to seeing our sponsors, volunteers, and supporters continue their philanthropy in other ways for this community."