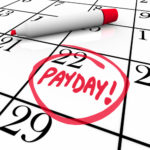 Escambia County averages wages have been flat over the past 10 years. Don't feel bad-Santa Rosa County is down 3.3 percent for the period from 2004 through 2013.
The Wall Street Journal created an interactive map – "Wages Winners and Losers Since 2004." One-third of all U.S. counties have seen their pay decline, when the figures are adjusted for inflation.
Florida has faired worse than most of the nation. Three out of four Florida counties suffered wage declines in that period. Only 17 counties reported average wage gains.
In the Panhandle, Escambia County had a .01 percent decrease, dropping from $38,196 in 2004 to $38,146 last year. Santa Rosa fell from $34,244 to $33,117.
Only Okaloosa County had an increase in annual pay jumping from $38,431 in 2004 to $40,207 in 2013—a 4.6 percent jump.