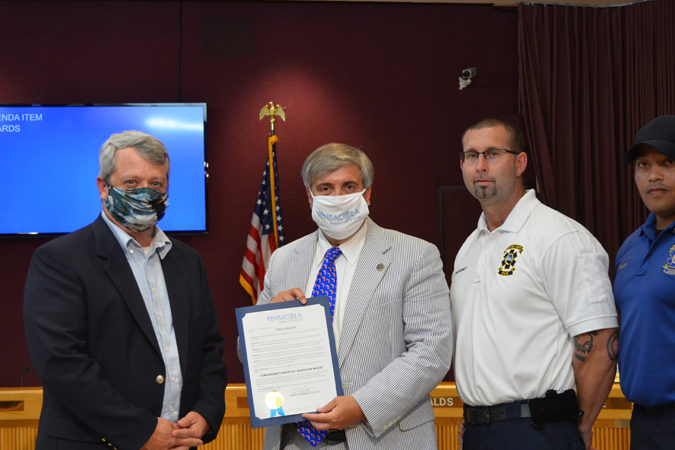 "If we can work together, we can really beat back this COVID thing." – Mayor Robinson
by Jeremy Morrison, Inweekly
Pensacola Mayor Grover Robinson is hoping mask-wearing does the trick.
"If we can work together," the mayor said Monday during his weekly press conference, "we can really beat back this COVID thing."
Last week, Mayor Robinson issued an order that masks be worn in public businesses within city limits to combat the seriously spiking numbers of coronavirus cases across Florida. He sees the effort as necessary if the area is to avoid retreating entirely into shutdown mode.
"To beat things back, we could go closure, or we could go masks," Robinson said. "I don't think you're going to see closings. Closings are something we need to stay away from."
Since issuing the mask order — an order that goes beyond state-level efforts — the mayor said he has heard from constituents that appreciate the rule and those that see it as an overstep.
"I got lots of emails on both sides," Robinson said, explaining that "it's not a fake virus, it's a real virus" and urging city residents to approach the issue from a health perspective rather than a political one. "The virus doesn't care what political party you're in."
The mayor relayed conversations he had recently with local healthcare officials in which they pointed to widespread mask use as the best chance to slow the spread of COVID—painting the practice as a "common courtesy" to protect others and one that's especially needed considering that officials now estimate that there is about 10 times the number of infected people, many asymptomatic, as there are verified cases.
"There are almost 5,000 people in our community who have not been diagnosed who are walking around with COVID," Robinson noted. "If you have COVID and you don't know it, you can spread it to someone else."
Mask Island?
While Pensacola is requiring the wearing of masks in public businesses, the effort is an island of sorts. Escambia County has yet to lay down such a requirement, and neither has Santa Rosa County. Milton City Council considered requiring masks, but then backed off after citizens pushed back against the concept.
Mayor Robinson said Monday that to be genuinely effective, officials throughout the Northwest Florida region should be looking at issuing mask orders of their own.
"I really hope Escambia and Santa Rosa counties would think about this," Robinson said, adding that he had spoken to both Escambia County commissioners Lumon May and Robert Bender about he issue.
"I hope that they see they can play a part in this," the mayor said. "It's got to be the whole region working together."
Breweries and Churches
Although allowed to reopen during Florida's phase two of the reopening process, bars have been reordered to shut down again. Moreso than restaurants, bars have been identified as particularly problematic when it comes to spreading COVID — customers tend to socialize more instead of being isolated at their individual, socially-distanced tables.
Mayor Robinson said that he sees the logic of assessing micro-breweries differently than traditional bars. Brewery environments, he said, tend to be less chaotic social environments, with customers seated at tables instead of clustered at the bar.
"There is no reason, if you operate like a restaurant, that you should not be able to open," he said.
Robinson said that churches pose another interesting entity on the COVID landscape. While the institutions are defined by typically large gatherings of people, the city has not included them in its mask order.
"The problem is, churches are not businesses," the mayor said, explaining the city's inability to lay such a requirement on such organizations and urging self-governance and voluntary mask-wearing among churches.
Beach Party?
The annual Blue Angeles aerial spectacular is a go for the upcoming Fourth of July holiday. In response to COVID and to realize a socially-distanced event, the show will be spread out over four days and include flyovers spanning Escambia's coastline.
While he did formerly represent the beach as county commissioner in Escambia, Mayor Robinson has no authority over any aspect of the event — "I don't control the beach and I certainly don't control the U.S. Navy" — but said Monday that he feels the measures being taken should be adequate.
"If we can properly space in that area, I don't think that's a problem," he said, pointing to the expanded area for this year's show.
In a typical year, attendees swamp Pensacola Beach, particularly Casino Beach, to view the Blue Angels. Robinson suggested this year's attendees would be inclined to space themselves appropriately up and down other beach stretches.
Perhaps worth noting on this front, COVID does not seem to have dampened activity at the beach as we roll into the summer season. Pensacola Beach recently saw its highest number of vehicles pass through the beach toll booth since beginning to keep track of such data a few years back. If attendees to the airshow flock to Casino Beach as per usual, the mayor said such a situation would be a "definite no," as it would elevate the risk of spreading COVID.
"Once Casino Beach has more than a few people, you've got to move one," he said. "We've got to do it the right way."