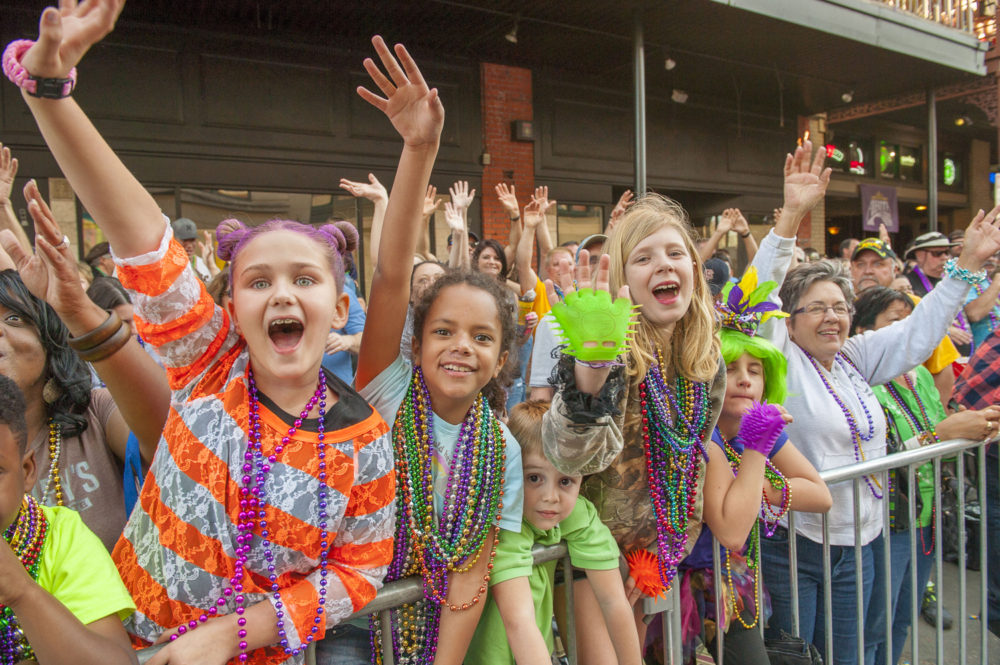 PENSACOLA, FLA. (November 17, 2016) — The new year can only mean one thing in the Pensacola Bay Area: swarms of beads and MoonPies will soon be flying overhead while the sounds of laughter and music fill the streets of Downtown Pensacola.
Passionate krewes, extravagant parades, decorated floats and — most importantly — beads and MoonPies make up Mardi Gras in Pensacola. The settings are historic downtown and Pensacola's beautiful beaches, and all events are family friendly, free and open to the public.
The season officially begins with a Pensacola Mardi Gras Kick-Off Celebration "parade in reverse": a high-spirited celebration in the tradition of a 12th Night Party that takes place on Friday, Jan. 6, at 5:30 p.m. More than 40 krewes and their floats park along Pensacola's waterfront. The floats don't move. Rather, people gather in the streets and go from float to float to collect beads and other throws. A Catholic priest blesses the floats, declaring them ready to participate in Mardi Gras. The celebration continues until about 11 p.m. when the krewes cut Pensacola's first, official king cake.
"What makes Pensacola's Mardi Gras so special is that we concentrate all our parades into one big weekend, and the Krewes pride themselves on their throws," Danny Zimmern, President of Pensacola Mardi Gras, Inc., said. "Pensacola's parades are known for the throws because the Krewes throw more of them, and the throws in Pensacola are better than any other city. Many of Pensacola's Krewes have themes that celebrate Pensacola's heritage. The Krewes put a lot of time and effort into their floats, costumes and custom throws."
Pensacola's parades are packed into a single weekend, Feb. 24-26. Visitors can watch the spectacle of Pensacola's only nighttime illuminated parade, the Krewe of Lafitte Parade, on Friday, Feb. 24, starting at 8 p.m. Lafitte features 12 floats, one live canon, and 250 pirates. The parade rolls through Downtown Pensacola along historic Palafox Street.
The Grand Mardi Gras Parade is the biggest, best-known event of the season, often attracting upward of 75,000 people. This year's parade takes place on Saturday, Feb. 25, at 2 p.m. and follows the same route as the Krewe of Lafitte through downtown. Parade-goers will be able to enjoy the pageantry and theatre of more than 6,000 participants and more than 240 floats, ranging from '60s go-go dancers to Greek goddesses, parrotheads and pirates.
The parades will wrap up on Sunday, Feb. 26, when locals let the good times roll, "island style," along the sugar-white sand of Pensacola Beach. The Krewe of Wrecks Parade starts at 2 p.m. — just steps from the shoreline, on Via De Luna.
"Mardi Gras in Pensacola continues to grow," Zimmern said. "More people are realizing it's safe, free and fun for the entire family. There are great parades, easy parking, and excited but well-behaved crowds. It's hard to top parades on one of America's Greatest Streets with a backdrop of the world's best beaches."
Mardi Gras celebrations aren't limited to Pensacola and Pensacola Beach. Neighbors in Perdido Key have their own line-up of fun, unique celebrations — including the Pirate Flotilla on Saturday, Feb. 18.
A complete listing of Mardi Gras events, times, and locations can be found at www.visitpensacola.com as well as, special event deals and discount accommodations available to visitors throughout the Mardi Gras season.