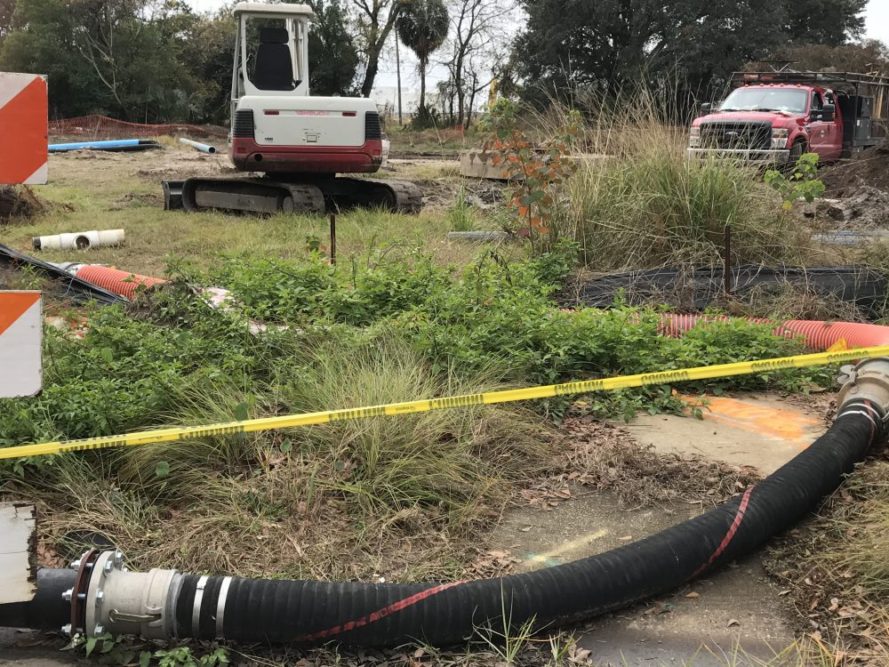 On "Pensacola Speaks," Emerald Coastkeeper Laurie Murphy said that last week she sent Pensacola Mayor Ashton Hayward a list of code violations at the Government Street Stormwater Project in the Tanyard neighborhood. Mayor Hayward has yet to respond.
The violations that she reported to the mayor:
1. Blocked off stormwater drains
2. Piles of soil that have been there so long that grass and weeds have grown on them.
3. Lack of silt fencing on part of the job site
4. Soil from the job site tracked out onto residential streets.
5. A pipe with an unknown substance piped into the storm drain.
6. Axel grease containers opened and laying out in the residential street area.
7. No fencing around this large storm pond in a residential neighborhood where children play.
8. Large areas of standing water and gravel from the job site located on residential neighborhood streets with out regard to safety.
"This is a danger to the residents and children residing in this neighborhood," said Murphy.
She was disappointed that Mayor Hayward didn't show up yesterday for the site visit held by County Commissioner Lumon May. She hoped to discuss with him the violations.
During the tour, Murphy did speak with Tanyard residents who were concerned about construction activity lasting until 10:45 p.m. on many nights.
She said the City Engineer Derek Owens refused to allow her to come onto the pond property when he toured it with county officials.
"We were told that we would have to be a City or County official to have permission to be on that property," Murphy said. "There were no 'No Trespassing' signs posted."