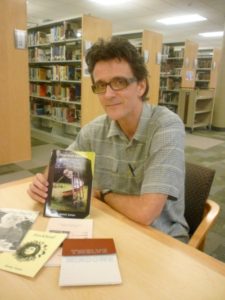 The poet laureate of Northwest Florida, Jamey Jones, will discuss poets who have influenced him at 2 p.m. Wednesday, April 15, at Pensacola State College's Edward M. Chadbourne Library on the Pensacola campus, 1000 College Blvd.
The public is invited to this free Book Talk sponsored by the PSC library system and the PSC Speakers' Bureau.
In his presentation, "Evolution of a Poet," Jones will discuss his poetic lineage and will read selections from his own work and other publications. His most recent book, "Blue Rain Morning," contains many poems that reflect his roots as a fifth generation Pensacolian.
Jones is a postmodern poet and the author of several chapbooks, including "The Derby Earth," "the notebook troubled the sleep door," and "Twelve Windows." His poems have appeared in numerous journals including The Brooklyn Rail, Fell Swoop, Zen Monster, Big Bridge, Brooklyn Paramount, and The Tsatsawassins.
Jones teaches English, Literature, and Poetry at Pensacola State College.
The presentation concludes with a question and answer session and refreshments.