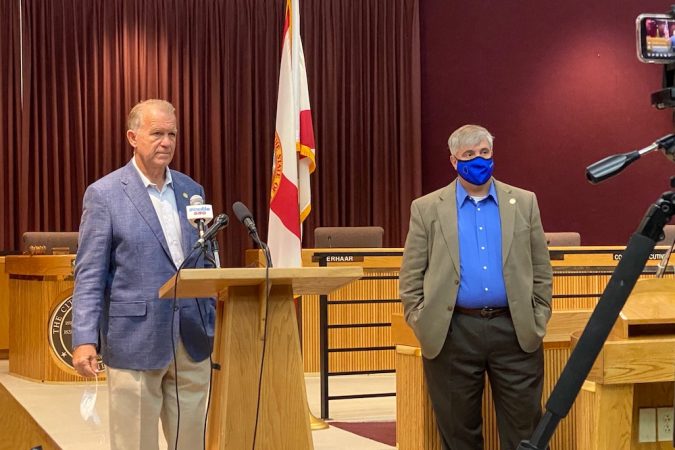 by Jeremy Morrison, Inweekly
Pensacola Mayor Grover Robinson hosted a guest at his weekly press conference Monday morning. State Sen. Doug Broxson joined the mayor, explaining he arrived via public transportation.
"I'm just overwhelmed at how convenient it was," Broxson said, relaying his bus ride from Tiger Point.
Broxson arrived in Pensacola on a ECAT route recently added to accommodate commuters who would normally be traversing the Pensacola Bay Bridge — knocked out by loose barges during Hurricane Sally — but are now faced with a lengthy circumnavigation. The senator extolled the bus ride as being as efficient as driving a private vehicle, as well as being free and environmentally friendly.
"It's a very effective way to get back and forth to work," Broxson said.
Broxson dropped in on the mayor's presser to offer an update regarding efforts to repair the bay bridge. He said that local and regional officials were conferring weekly with the Florida Department of Transportation, which is overseeing the bridge work.
"Frankly, the reason that we're on those calls every week is to make sure there are no surprises," Broxson said.
Currently, the senator said, work is on track to make the April 1 reopening date. Divers are still inspecting pylons for damage and new equipment is on its way which will enable the removal of larger pieces of the damaged bridge.
Broxson also noted that people should expect some changes even when the bridge reopens.
"There will be some things that are different than they were before," he said, explaining that the just-constructed bridge's pedestrian pathway — a key component of the structure — will remain offline for a while beyond the reopening.
Destination Unknown
A number of Confederate monuments have been removed from various locations around the country this year, but Pensacola's monument — which the Pensacola City Council decided to remove this summer — has proven a bit more difficult than some others.
"Our's was a little bit more elaborate in the way it was put up and put together," Mayor Robinson said, referring to the in-process removal of the monument in Florida Square, formerly Lee Square, downtown. "As you've seen it come down, I've been impressed at just how complicated and complex it was put together."
The mayor said the monument, which consists of a base, a pedestal and a statue, has required precise disassembling. The city is storing the components of the monument at the Port of Pensacola until it is determined where they will go from there.
Robinson said that wherever the monument goes next, the city is working to ensure it is a place where it will be treated in a "thoughtful and respectful way." Much of the monument — the base and dedication panels — will likely go to St. John's Cemetery, as no other individuals or groups have expressed interest in taking it.
"We have talked to a lot of places that have said no, but at this point St. John's is the only place that has said yes," the mayor said, adding that he thought there may be more interest in taking the monument now that the city had actually removed it from its former perch on Palafox.
While St. John's may take certain elements of the monument, Robinson said that it was not yet known where the pedestal component would end up, as it is height-prohibitive for many locations. Also unknown is where the statue of the Confederate soldier that sat atop the monument might go.
Parent University
The city recently hosted a group from Savanah, Georgia, including Mayor Van Johnson, involved with Parent University. The group, which also included Parent University Executive Director Michael O'Neal, met with city officials and discussed plans to set up the organization's first satellite operation outside of Savanah.
"We're very hopeful that some time in the near future we will be seeing Parent University coming to Pensacola," Robinson said.
Parent University — which works to empower parents to better foster an educational environment for their children — has operated in Savanah for two decades. Mayor Robinson drew parallels between Savannah and Pensacola, saying both communities were looking to improve student learning outcomes in the face of challenges such as generational poverty.
"About 20 years ago they found themselves with the same challenges that we have," the mayor said, pointing to the organization's successes in Savannah. "They found out that when they got parents involved that we were much more successful in achieving more successful rates for their children."
Robinson compared Parent University's efforts to building upon concepts such as the local 'brain bag' program, which provides new parents with educational material and resources, and said Pensacola parents could benefit from the organization's presence.
"Every parent cares an awful lot about their children, but every parent doesn't know how to exactly go about working with their children to make sure that they're education is as as maximized as possible," the mayor said.