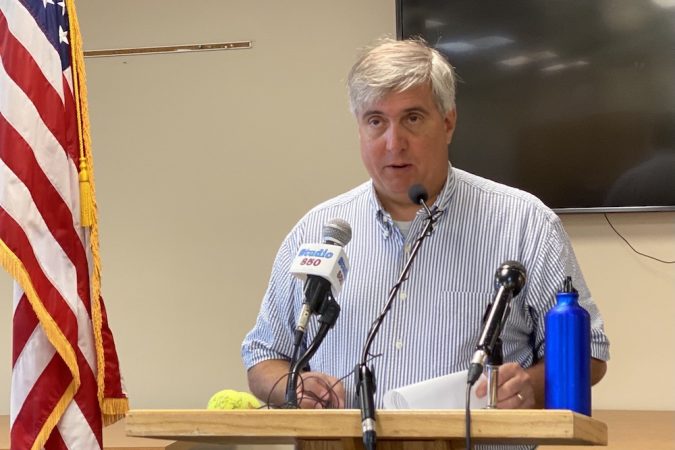 by Jeremy Morrison
Pensacola is becoming more hospital for drivers of electric vehicles, or EV's. More will be springing up as a new city policy takes effect with a handful of charging stations already available in the city.
"[This] mayoral policy will help provide EV charging stations to the community effectively and equitably by requiring all new development and redevelopment of the city-owned properties to install EV charging infrastructure," said Mayor Grover Robinson Monday during his weekly press conference.
In moving to require such EV infrastructure development, the mayor said the city is working towards its environmental goals concerning renewable energy and lowering its greenhouse gas emissions.
"The city is acting both environmentally and economically responsible," Robinson said, pointing out that the development of such infrastructure makes long-term financial sense.
Crawling & Camping
The city of Pensacola is delving into a discussion about homelessness and how best to address the issue, with a new report and task force unveiled this week. Mayor Robinson cautioned Monday that the city — as well as Escambia County and community service organizations — is still in the very early stages of launching a still-unfolding plan that is currently being presented to the Pensacola City Council.
"Right now, we're worried about crawling, there's absolutely a point where we're going to be very excited about running, but we're not there. We've gotta crawl, then we'll walk, and then we'll run," Robinson explained. "But right now we're just trying to do crawling, so I think you're going to see us come with immediate plans to crawl to the council, but you're also going to see a plan that says, 'this is what we want to do as we crawl, walk and run, and this is what we're going to be doing, but realizing that we are not going to be running tomorrow, all we want to do right now is crawl …"
While there are plans to develop sorely needed housing in the long term, in the short term, there is a growing homeless encampment under the I-110 interstate that the city council has granted a moratorium on removal. On Monday, Mayor Robinson said that as more shelters come on line — two will be opening soon — he expects that individuals in the park will be moved into the facilities.
"At some point, that camp will work itself out," Robinson said, leaving it vague as to when the city might change course and remove campers from the stretch of public park under the overpass.
Wahoos Lease
The city is close to finalizing a deal with the Blue Wahoos for the team's lease at Maritime Park's stadium. Mayor Robinson said the lease would remain unchanged, except for specifying improvements to the park that the city will be making.
"Our intent is to keep them here for an additional 10 years and get them to reexerceise the option," the mayor said. "I think that's where we're going. If that's the case, all the improvements are going to be on us, the city. We have a plan to finance that, and Amy's putting that together."
Improvements to be made at the park are being mandated by Major League Baseball and the Wahoo's MLB affiliate, the Miami Marlins. The upgrades, expected to run around $2 million, include installing artificial turf, changing out the lighting, and relocating the bullpens.
Robinson said he'd be putting something before the city council in July detailing how the city intended to funds these upgrades but also stressed that Pensacola was fortunate to be able to be securing the minor-league Wahoos with the changes that have taken place as MLB has taken over the minors.
"It is exciting that we could secure baseball for another 10 years because Major League Baseball is not giving out anything;10 years is the longest they'll go out with somebody, so from that standpoint, that will be a great thing," the mayor said.