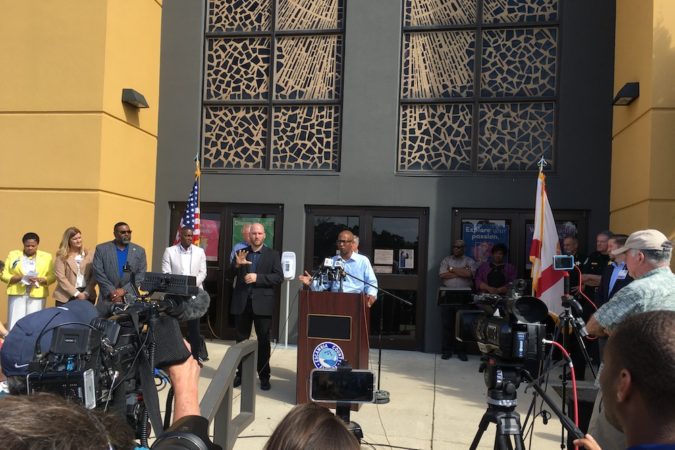 'Begin To Transition To Where We Go'
by Jeremy Morrison, Inweekly
Local community officials gathered Wednesday to field questions pertaining to the COVID-19 coronavirus and announce two new testing sites that will be rolled out in the days to come.
"While we're trying to stay six feet apart, we are working together," said Pensacola Mayor Grover Robinson, who along with Escambia County Commissioner Lumon May organized the coronavirus press conference at the Brownsville Community Center.
The opening of a COVID-19 testing site in Brownsville was perhaps the most notable news to come out Wednesday's presser. The site is the result of a partnership between Pensacola and Escambia, as well as Sacred Heart Ascension Healthcare, and will be operated by Community Health of Northwest Florida.
"Community Health of Northwest Florida is here to take care of those that are most vulnerable," CEO Chandra Smiley explained how the organization's mission statement of providing healthcare to the uninsured dovetailed with the testing site.
This new testing site, to be located at the Brownsville Community Center, will open March 23. It will work in coordination with Ascension's own testing operations — utilizing the same callcenter and labs — and will be open each weekday from 9 to 11 a.m.; the call center, reached at 850.746.2684, is open from 6 a.m. to 9 p.m.
Like the testing site at Sacred Heart, the Brownsville site will require individuals to first be screened through the call center, where it will be determined if they meet the federal Center of Disease Control criteria to be tested.
"This isn't just drive up and see if you can get tested," Smiley said. "You have to call that screening call center first. Those who do not called and are prescreened will not be allowed to proceed with testing here."
The testing site at Sacred Heart, open since Monday, has been busy. It received 700 phone calls the first day, 28 percent of which met the testing criteria. Over the first two days, the site tested 211 individuals.
The third testing site, opening by the end of this week, will be located at Baptist Hospital. That freestanding site will be open fro 7 a.m. to 7 p.m. on the weekdays and from 8 a.m. to 3 p.m. on the weekends.
"Take this seriously. This is a significant, unprecedented event," urged Baptist CEO Mark Faulkner. "But there's great news. We can stop this. We can overcome this. But it is going to require each of us to own that responsibility. So be wise, follow the advice and counsel of those that are knowledgeable. Be discerning. Make good choices. And keep yourselves and your loved ones safe. "This is the time for unity. To share resources and come together as a community. And, yes, I would say it is a time of prayer. That God would spare us from this issue, or save us through this."
Hospital Preparedness
Representatives from the various local healthcare institutions — Sacred Heart, Baptists and West Florida — said Wednesday that each was operating under its respective emergency management plan.
"We are ensuring that we have the right environment and the right equipment to take care of our community," said Dawn Rudolph, CEO of Ascension Sacred Heart.
Faulkner said that Baptist was exploring "innovative ways to expand capacity," perhaps utilizing areas outside of the hospital itself. He also noted the importance of curbing the spread of COVID-19, which has the potential to quickly overwhelm healthcare providers.
"That's the real challenge here, is to flatten that curve, so that at a certain level of capacity we can meet that demand," Faulkner said.
The healthcare representatives also spoke about the current lag time on testing. Currently it is taking from three to seven days to get test results, but it's hoped that duration will decrease. One reason the lag exist on testing is due to the limited number of testing outlets, limited to commercial labs on the state Department of Health; soon, as more of the agents required in the testing process become available, tests should be able to be assessed in an internal lab.
Social Distancing Etiquette
A series of evolving social-distancing guidelines have come down from the federal level. And local and state governments around the country have imposed their own definitions upon the patchwork landscape.
In Florida, as of Tuesday, bars and nightclubs are closed for a month. People are encourage not to gather in groups. And to stay home whenever possible.
Escambia County Health Director John Lanza said Wednesday that persons considered most vulnerable — older individuals, or those with compromised health issues — should practice isolation, or containment, while others should practice social distancing. Asked how socially distant people should be and where they should and should not venture, Lanza said to "be smart."
"You are a thinking individual. You know, what kind of situations do you want to put yourself in?" the health director said. "You have to think about who's around you and what kind of situation you're in and just be smart. And if it doesn't feel right don't be there."
While the social-distancing guidelines, such as not gathering in groups, is currently not a requirement, Escambia County Sheriff Chief Deputy Chip Simmons said that law enforcement officers may ultimately find themselves enforcing COVID-19 related rules.
"If there's an order from the governor, or from the board of county commissioners, we will enforce that," Simmons said. "I think that what we're seeing is a lot of voluntary compliance, and we want to encourage more and more of that."
Currently, with the exception of bars and nightclubs, businesses are not required to close up shop. That could change, however, and Mayor Robinson encouraged both businesses and individuals to begin preparing for an evolving landscape.
"We are asking right now for you — businesses, individuals, citizens here — to begin to transition to where we go," the mayor said.