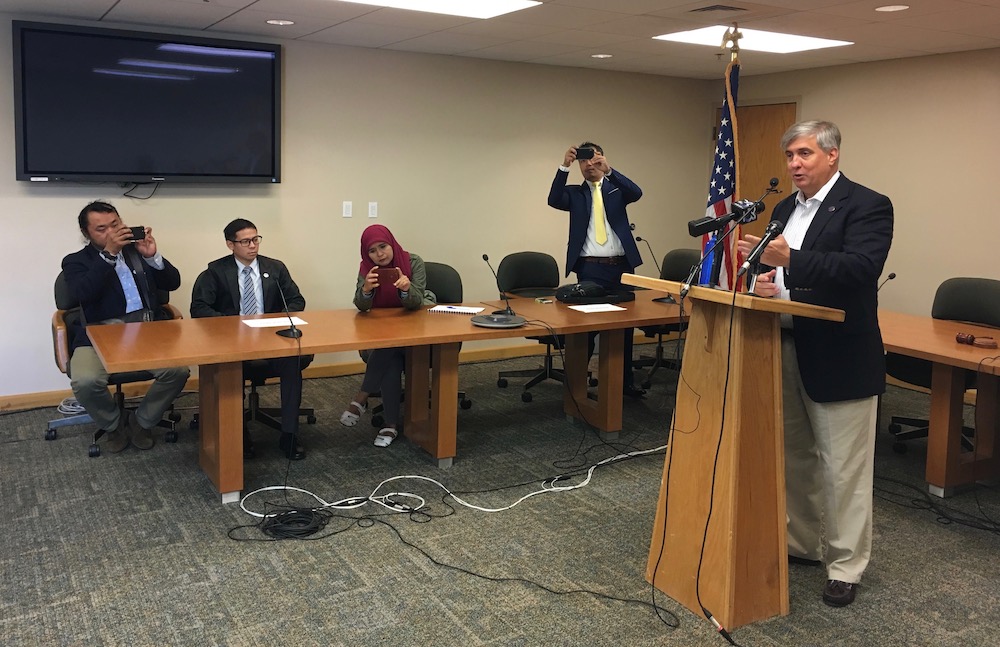 by Jeremy Morrison, Inweekly
There were more journalists than usual Monday at Pensacola Mayor Grover Robinson's weekly press conference, as a visiting contingent of journalists from Thailand were in attendance. They sat and listened as the mayor discussed roadway beautification projects, the birding potential at Bruce Beach and the various layers of an unfolding community conversation in the wake of a fatal police shooting in July.
Keeping an Eye on the Police
In early July, Tymar Crawford was killed by an officer with the Pensacola Police Department following a traffic-stop gone sideways. The Florida Department of Law Enforcement is currently investigating the incident.
Since the event, a local community organization called Dream Defenders have approached the city and made a number of demands, ranging from improved training for local officers, to the dismissal of the officers involved and the deprioritizing of marijuana possession and other lower level offenses.
Mayor Robinson has previously said that the city's police force is young and could afford to undergo further training, and after meeting with Dream Defenders representatives last week, he says he's also open to establishing a civilian committee charged with oversight of the police department.
"It's certainly always good to look at how things are being done, how we're progressing, and if we need to bring together a citizen committee much like we did back in the 90s, again, I'm not opposed to doing something like that," Robinson said Monday. "If we need to have a citizen group evaluating how we're doing with our policing and how we can be better, I mean, I'm open to that anytime."
The mayor said that while the city and the Dream Defenders group do not agree on certain items — such as a demand to release the identify of the officers involved in the Crawford case — there were multiple things on which common ground was established. Among the concepts to come out of the meeting: conducting quarterly events geared toward getting officers out into the community, as well as the increased training.
Mayor Robinson also said that he thought that ultimately the city's relationship with citizens — specifically African American residents — would benefit from additional African American police officers on the force.
"The long-term approach about where we go with this, we need more good quality individuals in the African American community who want to be police officers," the mayor said. "If you have a desire to do it, if you think you'd like to serve, if you like to help people, we'd love to work with you and get you involved and figure out a career path for you."
An issue not discussed during the mayor's meeting with the Dream Defenders was the existence of a video recording of the incident in which Crawford with shot. During public remarks in front of city council members last week, a Dream Defender representative mentioned the existence of video.
Robinson has consistently said that the city plans to release the police department's body-cam video as soon as FDLE has wrapped up its investigation. He repeated that position Monday, saying that he had no knowledge of any outside recording.
The mayor did say that if FDLE released the body cam video this week — while Robinson is out of town at a Florida League of Cities conference — the city would likely delay its release until he got back in town next week.
"It's not that we're trying to sit on it, but we'd like to all be here when it happen," Robinson said.
Other than allowing that the police force needs additional training, city officials have withheld any statement on whether or not police officers acted appropriately or not during the July 5 incident. Monday, though, Robinson used verbiage that seemed to color the officers' actions in the negative.
"It's unfortunate that, obviously, things happen and there was an error, but again, everyday they go out there and do an incredible job of doing what they're doing and they have a very tough job," the mayor said.
When asked to elaborate on his use of the word "error," the mayor recategorized the description of officer actions as something that "wasn't an intended result that we wanted to achieve."
"Obviously, there were things that we didn't want to happen," he said. "My point is, it's created, obviously, some tension. And we're feeling that. And we're working through it."
Roadside Beauty
Mayor Robinson reported Monday that he recently made a trip to Chipley and met with Florida Department of Transportation officials about local roads projects. During the discussions, he learned that the state has some money to spend on beautification projects in the area.
Essentially, FDOT is required to spend 1.5 percent of the total cost of the new Pensacola Bay bridge on beautification projects. That's about $6 million.
"We could make a jungle on both the Gulf Breeze and Pensacola landing and not spend one and a half percent of what they've got," Robinson said.
Instead of spending the entirety of this money in areas near the bridge project, Robinson suggested to the transportation secretary that the funds be spread around town.
"I said, 'Could we spend this in other areas in the city of Pensacola,' and he said, 'Yeah, I'd be happy to look at some of these things,'" the mayor relayed. "Obviously his big thing is, 'We'll put it in, it's your job to maintain it.'"
The funds would be used for purposes such as removing existing concrete medians and replacing them with low-maintenance landscaping.
"The good thing is that's less concrete," Robinson said. "It's solves stormwater, it solves heat issues, it just makes everything better by turning that green rather than just leave it all concrete."
Birding Paradise
The city has lately put a lot of focus on Bruce Beach, an area recently identified as a game changer on an urban design plan mapping out a more connected waterfront for the downtown area. The mayor said he recently met with representatives from the Audubon Society and Florida Native Plant Society in regards to the organizations pursuing grants to fund the planting of native plants and, hopefully, ensure a healthy bird population.
"We were, like, 'We love it,'" Robinson said.
They mayor said that the planting of native species jived with the city's existing philosophy — "we think everything that goes back planted there should be native plants" — and speculated that Bruce Beach could become a birding destination, with the Audubon Society offering guided tours.
"When you look at what's out in the water in front of there, and the marshland, as well as the uplands, what we have with the regular birds in the uplands, I think it's great opportunity for us to see that and it's great opportunity to partner with a programming group that would help us at Bruce Beach," the mayor said.